I wanted to visit the Hunterian Museum even before I moved to UK. As a child I fancied with the idea of being a surgeon and a museum dedicated to surgery was an exciting prospect. I've been to Bodies revealed a few years ago, a special exhibition in Liverpool and I've enjoyed it a lot. It had a modern approach and the techniques were modern too.
I missed it in July, but it was first on my list for the August trip. The Hunterian museum is in the Royal College of Surgeons, near Holborn, close to the city centre and it's free (with a £3 recommended donation). We weren't allowed to take photographs on our visit but that wasn't an issue. I must admit the displays that impressed me the most aren't exactly suitable for blogging, at least not for my type of blog.
John Hunter was an army surgeon in the 18th century, remembered as a founder of "scientific surgery". He collected a lot of specimens during his commissions abroad. He assembled an impressive collection during his lifetime and in 1799 was purchased by the government and given to the Company (later The Royal College) of Surgeons. You can read more about the history here.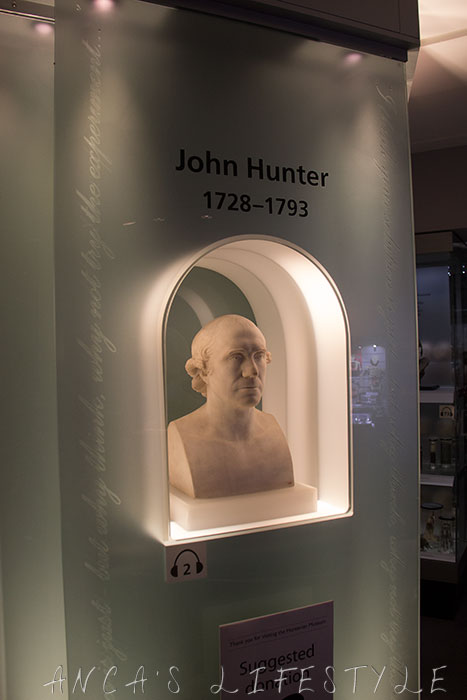 He was unique in seeking to provide an experimental basis to surgical practice, and his museum is a record of his pioneering work.
I've enjoyed the museum a lot. There were lots of specimens, both human and animal, preserved in formalin, skeletons and medical tools. Basically this is it, everything one can expect in a surgical museum. Seeing all those things was interesting. I learned and realized a few things by looking at the exhibits.
I said that there are some exhibits that might by distressing for some people. The small foetuses in different stages of development was one of them. I liked it because is much more powerful than looking at some pictures or learning about them in school. It's a funny thing to realize that all of us were once so small.
My husband had mixed feelings of the museum. He liked the medical equipment and the stories, not so much the formalin displays, but he is not too keen on specimens in formalin anyway. As this wasn't exactly his first choice for a museum, he liked it enough to enjoy himself. As I said, for me was great and I would like to visit it again.
My husband also realized that he has a serious medical condition called "Sweet tooth" because there was a tool especially designed for it in the shop. I have to agree with him, if it's something mentioned in a museum for surgery, it must be something very real and I should start cooking&baking for his sweet tooth.
Would you like to visit the museum? Have you been there?