This month I managed to read a lot of books again, 8, all non-fiction, that brings the total to 46! I think the next month will be pretty similar as I already borrowed&bought a few books that I'm keen on reading.
Before moving to UK, terrorism wasn't a part of my life. I remember vividly the news about the 9/11 attack, I remember telling my mother horrified that the second tower collapsed. I remember how I was feeling at that time, the memory had too much of an emotional impact not to remember every detail. I also remember other events that happened in UK, for example, with the same accuracy. While all these events were memorable, it wasn't like any of them would have a direct connection to me.
So, why does terrorism matter now? Maybe because I'm here and it happened in places I've been to, like London, in a location I know well, in Manchester the day after I spent the weekend there. It happened at a concert, at a supermarket, at an event, on the streets.
I know that it's more likely that I could die in a car crash, we even had a few of those (minor incidents), I still travel with the car. It's also more likely I would die from heart problems, but that doesn't stop me eating something that's not healthy or having a second cocktail. I wanted to understand, so I got a couple of books about terrorism. I learned a lot from them. Sadly, after I finished the first book, another two attacks took place in Spain. So, I continued with the second book. While I was reading the second book, another attack took place in Finland.
The Marshmallow Test. Understanding self-control and how to master it by Walter Mischel
Mischel is the psychologist that invented the Marshmallow test. It's not a self-help book, but a psychology book filled with details about the tests, subjects and results, not an easy read, but a proper book backed by scientific research. I found the book fascinating as I should (I studied Psychology at University). I would recommend this book to anybody that wants to know more about self-control and why we act the way we do. Going from there, it's easier to find ways to nurture the aspects we want in our behaviour. I think it can give some insight to parents and how to act with their children. For example, children who trust their carers can delay gratification and that will help them achieve their goals later in life. Basically, it's an easy concept, don't promise something to a child unless you are able and willing to give the reward when it was promised. Sounds obvious, but sadly it's not for everybody.
In the book, Mischel talks about the If-Then plans, Hot and Cold Systems, Executive functions, Rejection sensitivity, Psychological immune system, Will fatigue. It was a book I couldn't put down.
Terrorist's Creed. Fanatical violence and human need for meaning by Roger Griffin
Roger Griffin is a professor at Oxford Brookes University. Griffin says that we, in the West, are more terrified by terrorism than car accidents (what I mentioned before) because we've learned to live subjectively with the risk. It makes sense.
Amazingly for me, terrorism is not something new and not even a few decades old (I was thinking of IRA and ETA). The author talks about the history of terrorism, from Sicarii (Jews opposed to Romans, around 70CE) to the Order of Assassins (11th – 13th century, Shiite Muslims attacking in Damascus and Mosul… that sounds familiar doesn't it).
Even Buddhists can be terrorists, like the monk who killed Prime Minister SWRD Bandaranaike in 1959. Tigers of Tamil are mentioned too, from northern Sri Lanka (1983 – 2009), they assassinated important politicians, including former Indian Prime Minister Rajiv Gandhi in 1991 and Sri Lankan President Ranasinghe Premadasa in 1993. He also mentions the Chechen terrorist attacks against the Russians, killing 925 people from 1999 to 2011, in apartment bombing, at the Moscow theater, the Beslan school, Moscow Metro bombings and the Domodedovo International Airport bombing.
Griffin talks about Zealots and Modernist terrorists and the difference between them. It made me reconsider how I was thinking about terrorism. It was a fascinating read and I would recommend it to anybody interested in the subject. Not a light read though.
Mortgages and Equations. Mathematics of the Economy by Lluis Artal and Josep Sales
I loved Economy when I studied it in school as a teenager, so I was excited to get this book from our National Geographic subscription. The book starts with the history of using numbers in economy, it's a fascinating chapter, some of the things I already knew from other books, some I learned in this book. For example, double-entry bookkeeping is from the 15th century. I was surprised, it's so natural to think at the double-entry bookkeeping (money in vs money out), that I thought it was invented when money were invented. Then it talks about inflation, baking, insurance, returns on investment, stock exchange, growth. I loved it.
The Little Book of Hygge. The Danish Way to Live Well by Meik Wiking
This is the second book about Hygge that I read. As the other book, it was lovely and a light read with lots of wonderful pictures. I can say it's hyggeling to read books about hygge. I understood the concept, but it takes a bit more to internalize it, so reading a few more books on this subject should help.
The interesting thing is that I'm looking for hygge or coziness, without knowing the name. I like the minimalist decor, I like having a fireplace. For me, reading a book in the conservatory with the dog relaxed beside me, is perfection. I found out that there is Kaffehygge, that is Coffee Hygge. I had no idea there is a term for that.
In the zone. How Champions Think and Win Big by Clyde Brolin
The book is not memorable. I think this is one of the most harsh things I can say about a book. Beside Visualisation, the book didn't offer realistic inside. There are lots and lots of interviews with great athletes, like Nadia Comaneci, Andy Murray, Chris Hoy, Novak Djokovic. The interviews make the book enjoyable and a relaxing read, but they don't go deep enough. I would recommend it as a light read, while on holiday, but I would give it only 3 out of 5 stars.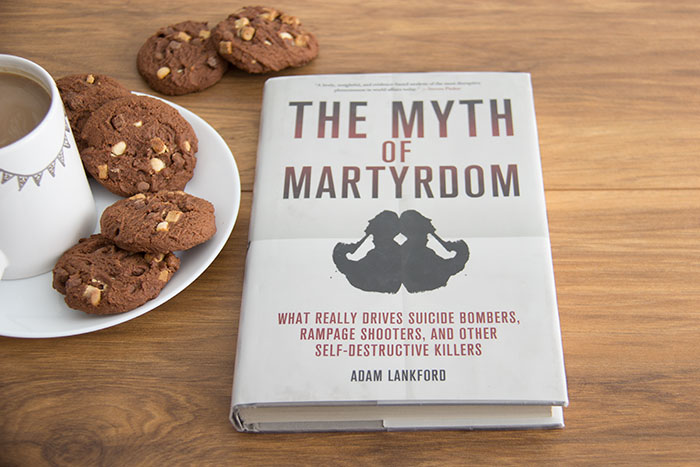 The Myth of Martyrdom. What Really Drives Suicide Bombers, Rampage Shooters, and Other Self-Destructive Killers by Adam Lankford
Adam Lankford is a Criminal Justice professor at The University of Alabama. He helped in the anti-terror effort within Anti-Terrorism Assistance Program at US State Department.
Lankford says in his book that "Martyrdom had essentially become the only socially approved form of suicide in the Islamic world: a method of escape for suicidal individuals who still wanted to go to paradise." I found the book very interesting and very different than the other one I've read. He talks about the suicidal tendencies of the martyrs and has a lot of backup for his claims even though they are disregarded by other experts. I was surprised to see experts from US saying that suicide terrorists are psychologically normal/stable. Ellen Townsend, Nottingham University UK, is also mentioned with a study she made on terrorists, where she mentions that them are not trully suicidal. Luckily I found her study and I'm going to read it soon.
While there can be a discussion if the suicide terrorists are suicidal or not, surely none of them can be classified as psychologically normal or stable. At minimum, they think they can change the World or at least the Western World as a result of their attack and that can only be described as delusional.
Going back to Lankford, he says there are four types of suicide terrorists: conventional (suicidal, same reasons as other suicidal people), coerced (forced by any means, including paying a large sum of money to their families if they go ahead or their families were threatened, remote detonation), escapist (instead of being captured) and indirect (suicide "by cop", where military or police will kill them during the attack).
I liked the book. It feels a bit strange to say that I like a book with this kind of subject, but, if you are looking for an insight in the suicide terrorist mind, then do read it. We humans are so complex, that it's never an easy answer why we do the things we are doing. In my point of view, it's not only an interpretation of their religion or suicidal tendencies that lead to this things, but a whole range of aspects.
The Women of the Cousins' War. The Duchess, The Queen and the King's Mother by Philippa Gregory, David Baldwin & Michael Jones
This is the first non-fiction book, written by Philippa, that I read. She writes the first chapter, about Jacquetta of Luxembourg, David Baldwin writes the next chapter about Elizabeth Woodville and Michael Jones the last one, about Margaret Beaufort. I was so excited to start reading the book, as I loved the fictional books Philippa wrote on all three, back in March. Jacquetta's story is wonderful, as she is. Reading Elizabeth's story made me sad, as it always does. In the last chapter, about Margaret, I learned a lot of new things I didn't know before, about her pedigree and her father and it was fascinating.
I liked the book a lot, their stories are interesting. It was also lovely to see how much Philippa respected the truth in her historical fictions books (a lot). I enjoyed it and I'm happy I've decided to read it.
Hygge. The Danish Art of Happiness by Marie Tourell Soderberg
The 3rd book I read about Hygge. I thought it would have been one too many, but I'm glad I started it. The recipe section in this book has lots of recipes I can actually make. The first had no recipes and the other one had mainly meat-based recipes. Besides, the stories are so nice and the book is relaxing, as all Hygge books are.
Despite not being sure I should read it, I'm glad I did as it was my favourite book about Hygge. She talked about the downsides of hygge, like eating unhealthy foods and spending too much time indoors during the winter. She made a list of words related to hygge and that was interesting too.