I mentioned in a post why we are usually going to a self catering cottage when we are away with work. I made a post about the cottage we've been to in February. That one was a barn conversion and had character. This month we booked a different type of cottage, a new build. I'm not keen on new builds, but it was in a perfect location and I had to work. By the end of the week I said I would gladly go back in the future, you'll see why at the end of the post.
This is the living room with french doors to the private garden. The TV had Freeview and we watched Mary and Paul talking about the Frangipane tarts Wednesday night. The living room was light, big and comfortable.
The main bedroom is big, with fitted wardrobe. We have a fitted wardrobe and I love them, there is a lot of space to store everything and I had a lot of luggage.

As I already mentioned, I can't pack light. I had to put clothes in a backpack we have for camping as the trolley and the other bags were already full and there was another small bag for the dog's things. The next two doors of the wardrobe hide a couple of jackets and other clothes.

This is the spare bedroom, it had a small wardrobe and a chest of drawers.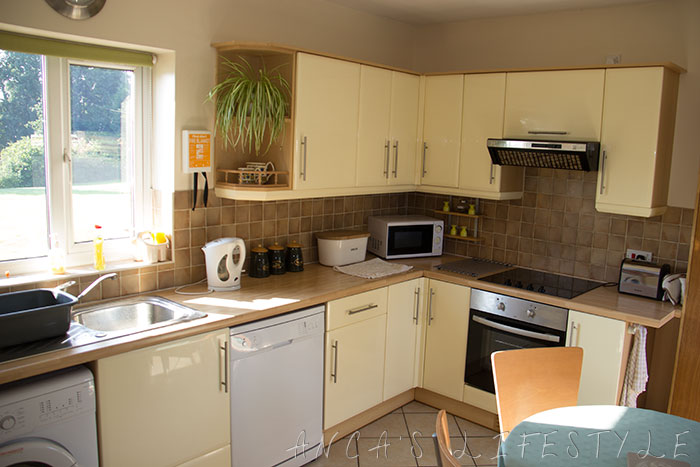 The kitchen is big and we had everything there. The fridge was small, under the counter, but it is enough for a few days.

The outside space wasn't huge, but it was ok for us. There were a small table with chairs and a washing line just beside the fence.
We had a lovely time there, the owners are friendly, but not too pushy. The cottage is close to pubs, supermarkets and the NEC, it is also a half an hour from Stratford upon Avon and Warwick. The best part was the wildlife and the horse. I saw a few robins, but didn't manage to get a picture of them. There were lots of other birds too, a delight to see and hear.

This is one of the residents, a friendly horse that loves apples and carrots.

This hare was standing a few meters away from the car. He wasn't bothered by the noise made by the car.

Every morning I saw the pair of pigeons on the fence and a lot of hares on the field, eating, jumping, running around. It was a lovely thing to see each day.