On Sunday I've been to another blogger event in Liverpool. It was organized by Jenny and Katie, two lovely bloggers I met at my first event in March (organized by Katie). The event was held at The Lime Kiln.

image courtesy of Jenny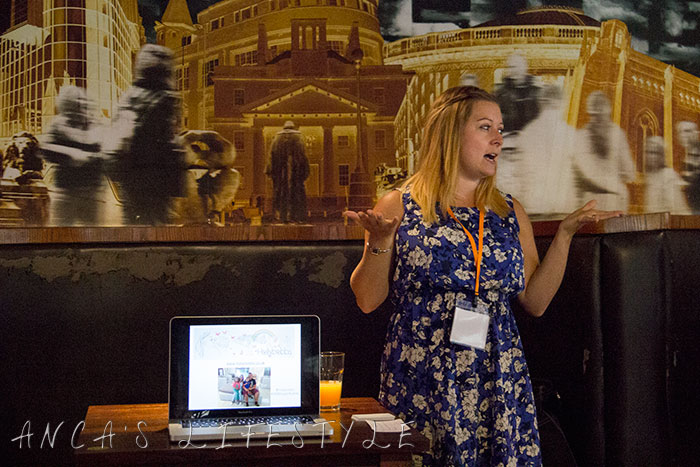 The event started with a talk about blogging. Lisa from Hollybobbs, our speaker, told us about promoting on social media, SEO and a lot of other interesting things on blogging.
The event continued with presentations from the brands: MyShowCase, Motives and Skinny Tan. Then we had the opportunity to have a look at the items and ask questions. I always enjoy this part, as I am quite strict with what I use and I usually like to ask details about the products.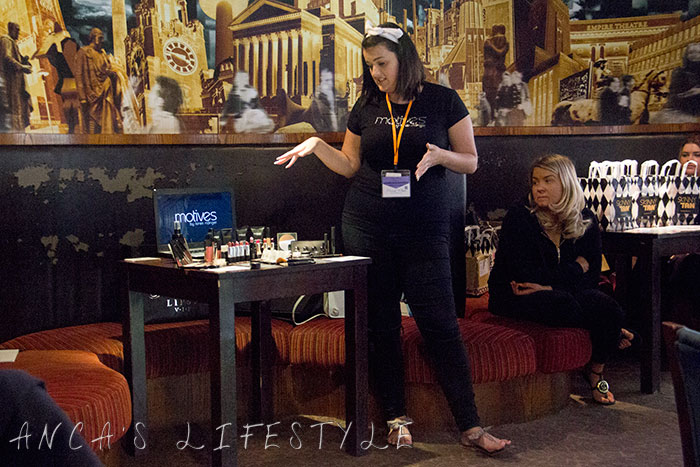 There were a few treats ready for us, like this wonderful pop-corn. I don't eat a lot of pop-corn, but the Tommy tucker were so good.

We had macaroons too, by The Little Macaroon Shop.
There were some contests and prize draws. We had to answer blogging questions and the winner was the one with the most correct answers. It was so funny, although I managed to get only 3 answers right (from 10).
The ladies from Skinny Tan gave us numbers for the draw. I got the number 9, but Cheryl was so kind to swap her 14 for my 9. I wanted the 14 because it's my birthday and hubby's birthday and… I won!! We had a laugh when the number was announced. I took a few pictures of the prize to blog about it and gave the products to Cheryl as she should have won.
We had lunch, sorry, no pictures. I realized after I've started eating that I didn't take a picture… greedy me. It was a great event. I've met wonderful bloggers: Cheryl, Emma (style-splash) and Dana (carryonbeautiful).
I would have liked to talk more with the bloggers I've met before and/or follow their blogs: Holly (empfire), Steph (seeingspots), Laura (insidelaurashead) and Sarah (salocainwonderland).
That was it, hubby called as he wasn't parked in a good location and I had to hurry. Now let me show you the goodie bag.

As you can see, the goodie bag was huge! There was also a fabric bag from The Blogger Programme. There were so many brands: Lush Spa Goodie Bag, Virtue Ice Tea Drink, Thomas Tucker Popcorn, Earthnicity Make Up, Greener Cleaner Brush, Passion for Natural, W7 Make up, Playboy Make up, Mello Mallo Marshmallow, Sweet Heart Wax Melt, Crabtree & Evelyn hand cream, Boden, Manuka Dr, Sweet Cecily's body butter, Milton Lloyd. I picked a few brands to write more details.

The Aloe Vera Body Scrub was the first thing I looked at. The products are made in the UK. The scrub I have is too soft, but I used this one yesterday and I'm very happy with it.
Earthnicity make up was something that caught my eye.

I chose to talk about this Greener Cleaner brush because I love the concept behind it: reducing the waste by recycling it into brushes with a little bit of wood from sustainable sources. I didn't have the chance to try it, but it looks sturdy.
Lush goodie bag, there were 2 samples and a lovely heart-shaped melting massage cream that smells amazing.

There were two bags of Tommy tucker pop-corn, so hubby and I split them evenly… mine was the big one.

The next item is a body butter made by Sweet Cecily's. I've read their story yesterday and I loved it. A small family run business making their products in UK is definitely the one that appeals to me. I've used the butter once and I like the smell and how it feels.
Virtue Ice Tea Drink in a new brand, less than one year old. There were only 63 calories per can and the sweetener is natural.