This month was fantastic and I do enjoy writing this June roundup. The month started with a fun event, the Bed Race. It had plenty of hot days, perfect for the 30 Days Wild challenge I took on this year. It ended with a short holiday in Oxfordshire, from which I've returned yesterday evening, and some pretty great plans for tomorrow.
This is one of the breakfast we've had while camping: naan-pizza and homemade biscuits. It's pretty similar with what we have at home. Recently we've had loads of pizza for breakfast, with different toppings. I like it because is so easy to make and it's tasty. Also, my husband loves pizza, is one of his favourite dishes.
Love bunnies? I do and I was so happy seeing lots and lots of bunnies in the camp site. I counted up to 10 at one time. Obviously, I've considered getting some cabbage for them, but my husband said we shouldn't feed them because the other campers might be annoyed seeing people "throwing cabbage". I had to agree with him, reluctantly, of course.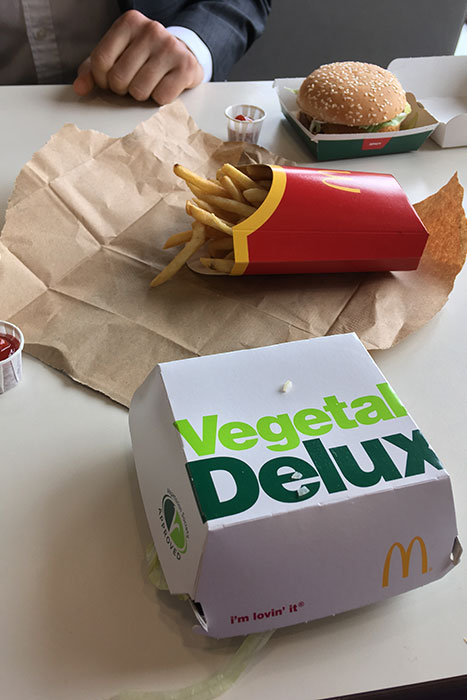 Next topic on my list: food! Well, we went for a burger at McDonalds. As teenagers and in our early 20s, we liked McDonalds. Somehow I was expecting to have the same feeling now. Well, while the burger was lovely and approved by the Vegetarian Society, the rest was a let down. The burger had only a bit of mayo and some roughly chopped salad. The fries were very oily, the ketchup was not pleasant at all, the bun had no consistency. Of course, it was exactly like it was when I was a teenager, but my taste has changed… a lot.
It's one of those things, when you have some lovely memories or special days there, but you shouldn't try to recreate them.
I've received this grofresh indoor garden at the beginning of June. I was very excited about it and I'm even more excited now. I grew some salad, took it out, and replaced it with seeds for tomatoes, cucumber, and chili plants. Well, they all have germinated. In two weeks, I have small plants, how amazing is that?
The grofresh garden is really nice. It is a new product and it was great to see that they've added new items on their website, replaceable celpods, different types of nutrients for plants, even a new microgrower celpod.
Are you watching the World Cup? We do, we watch every game England is playing and the highlights for the other games. I'm so happy England is in the last 16, and I think they could have won yesterday, it was so close. Hence, I had to buy this pasta, when I saw it in the shop: balls and trainers.
Besides, I've made dishes, savoury and sweet, from every country England has played with. So, from top-left is: the pasta I mentioned earlier, Tunisian Ghraiba cookies with chickpea flour, Tunisian Kaak warka biscuits with a filling of marzipan, Panamanian Johnnycakes and Panamanian Coconut Rice with Red Beans, and, the last, in the bottom-right is Rijstevlaai, a Belgian rice pie. Now I have to make something from Colombia… before discovering which country I should prepare food from.
This is one of the places I've been to, in my holiday. I'm very excited to talk about it on the blog, next month.
I couldn't say no to swings when we've visited the manor. Luckily, I was in jeans, and not the dress I wanted to wear in the first place.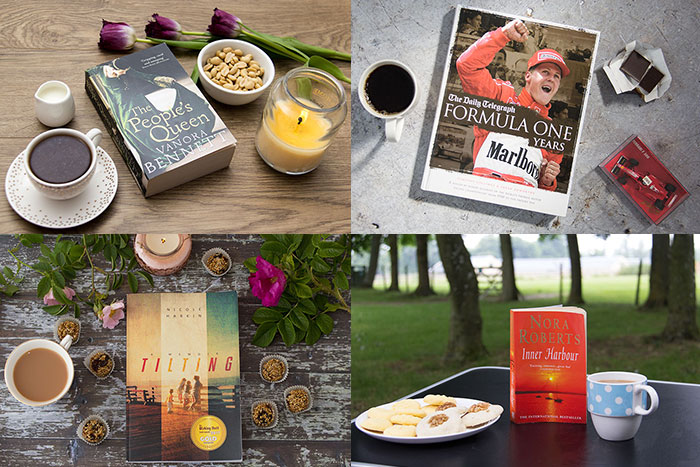 Books I finished in June:
The People's Queen by Vanora Bennett
Formula One Years by Timothy Collings
Tilting, A Memoir by Nicole Harkin
Inner Harbor by Nora Roberts
Also, The Sect of Numbers: Pythagoras' theorem by Claudi Alsina (I'm going to finish this tonight. I have only a few pages left to read). For the first three the reviews are on my book blog, the forth will be published tomorrow morning.
I've read Formula One Years now because this year's race, at Silverstone, marks a special occasion for me because I've started watching F1 exactly 20 years ago.