I've visited St. Mary's Church Weaverham on Heritage Open Days last week. It was a guided tour and I enjoyed it a lot, as the guide told us so many interesting facts about the church. In Weaverham people have worshipped in a church on the spot where is St. Mary's Church for over 1,000 years.
The site is mentioned in Domesday survey, 1086. Before that, it was a Saxon church that stood there until 1277. In its place a new church was built from the 13th to the 14th century. The new church was long and narrow. The Tower that we can see today, the one where we saw the bells (more about this later in the post), is from that church. In the 16th century, during the reign of Elizabeth I, the church was extended to, approximately, the size that is today. In 2000 an addition was made to the church to include facilities.
The church was ready for a wedding with these small flower arrangements that looked so pretty and simple.
The stained glass windows are beautiful, each of them has a different story.
An Elizabethan horn-book, discovered at the church.
The rails were made in the 16th century, then remade from the same wood. They were sold and retrieved in the 20th century and reinstalled. That's a nice history of them.
After the tour we were asked if we want to have a look at the bells. We got in the tower in a small room where it was explained how the bells work. After that, we climbed a few more stairs that were steep and the staircase was narrow. It was an exciting experience. We went through a small door (a tight squeeze is the best way to explain it) and we were told the story of the bells and how they are moved when the metal becomes too thin.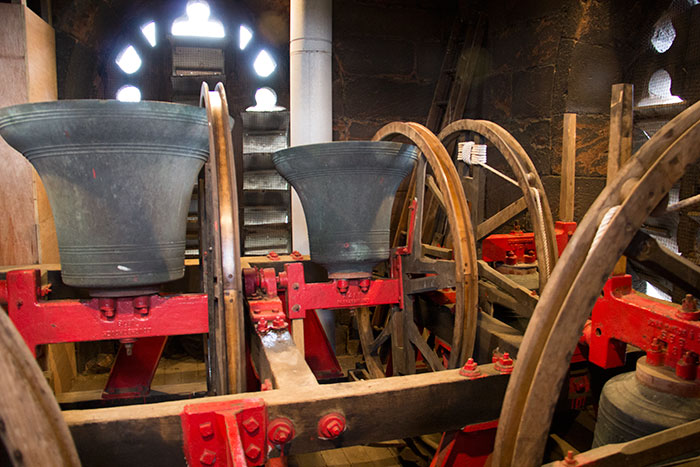 Then we heard the bells ringing. It was quite loud, more than I've expected. It was thrilling, I liked it a lot.
The address for St. Mary's Church Weaverham is The Vicarage, Church Street, Weaverham, Northwich, Cheshire, CW8 3NJ. There is a free car park near the church.