On the 27th I usually talk about my Christmas. This year I'm going to share lots of pictures with the dog. We've started our day as usual, after the dog had his morning walk, by taking family pictures near the tree with our new Christmas jumpers.
This year we've discovered some jumpers with an added belly, basically a pillow sewn on the jumper. It was hilarious to wear, but I had to change before preparing the food as it was so big and uncomfortable. Don't miss my slippers. This year I've bough two pairs of Christmas themed slippers and I love them. I'm going to put them with the Christmas stuff in the attic for next December. The dog loves them too, sniffs the small balls regularly.
After that we've started opening the gifts, starting with us, under the watchful eyes of Festus. He is quite hilarious.
This year Festus had 3 gifts. He already has two indestructible toys, so it was pointless to get another one like the ones he already has. A few days before Christmas he got a rope-toy for his Gotcha day. So, that meant no toys this Christmas.
When he has a few gifts to open, I ask him to sit or lay down and put the gifts in front of him. He gives them a sniff and, obviously, already knows what is inside. After that he puts his head on the first gift that he wants opened.
Amazingly, the first one was a bag of Tygryski corn puffs. He loves these. He takes the puff so gently and then smashes it to pieces before eating everything. It's hilarious to watch him.
Now, the second gift, a meat based wet food dinner. I would have imagined a dog would prefer meat to corn puffs, but here it is, Festus thinks differently. He did enjoy this dinner though.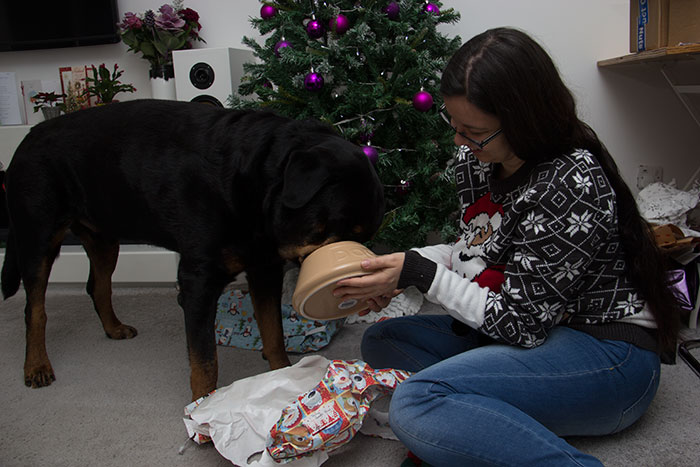 Lastly it was his new bowl with a very helpful description on it: DOG. We make fun of the fact that he is still a dog despite having lots of human-like behaviours (and this isn't me trying to anthropomorphise him, is just the way he acts).
I've made a few homemade treats for him too, mint water biscuits, that he liked.
Of course I blogged about our menu on my food blog. Have a look here at the starters, mains, and, obviously, lots of desserts from around the world.