A couple of days ago we've celebrated Festus' 9th Birthday! He has a bit of white hair, but the rest is pretty much the same. His present was a toy!
The day started with us singing "Happy birthday", as we do every year. Festus loves that. He is looking at us, wagging his tail, sometimes licking our hands. If you have a dog, try singing to him/her, if you haven't. It's a fun thing to do. After that he got to see his gift and the card.
Two years ago we bought a Goughnuts from Crufts and he loved it. We've recently change it, as he chew it (it was free to replace, we only paid for shipping and returned the toy). So, we've decided to get a new one too. This is the sort of toy he will take with him on walks, if he fancies that. He would also spend a lot of time playing and chewing it. The new toy was a success. He was so eager to play with it, he barely stood still for me to take a couple of pictures.
This is the card I got for him. I don't buy cards for him every time, mainly because it's really hard to find an appropriate card for the dog. But this one was perfect for him, including the balloons. Since he was a pup he loved playing with balloons. It was an idea of mine, so he could play with any dog without anybody getting upset that the other dog had the "ball" for too long, as the balloon popped.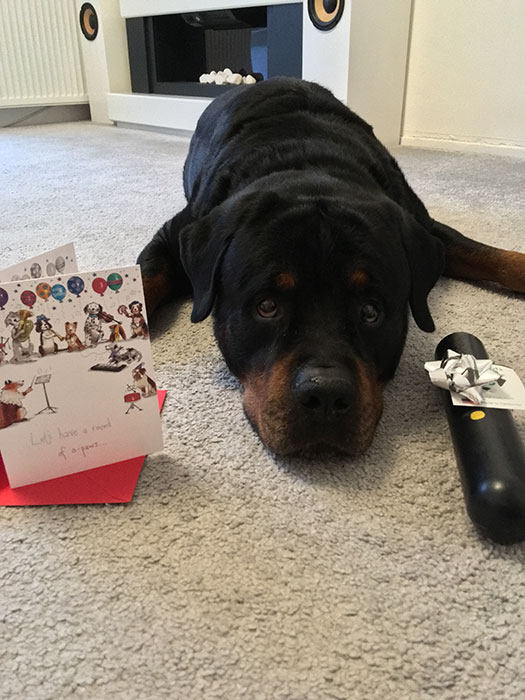 Isn't he very cute?! I might be biased, but I think he is the most amazing dog in the world.
As for party food. I made these doggy biscuits, using only 2 ingredients: flour and orange juice (no added sugar). Surprisingly, the biscuits rose a little, probably due to the citric acid in them. He loved them.
I wrote his name in biscuits and, obviously, the 9…
I don't think these need any additional comments.
On Saturday we planned to take him on a trip. But installing the cage took a bit longer. We bought a big cage, bigger than the space we had in the boot.
Thus, my husband spent a lot of time on Saturday dissembling and cutting the cage to fit in the boot. It was what we planned and it worked out fab. You wouldn't know this was not the size of the cage and that it was adjusted, would you? Because Festus is not exactly small, we had to buy a cage that would be used for two dogs. It has a separator we didn't put in.
Despite us not going for a trip yesterday, Festus still enjoyed the process of making the cage. He is always interested in any DIY project my husband makes. Sniffs everything, every bar, every screwdriver, every nail (we pay extra attention to those, but Festus only smells and never picked up anything). After the cage was complete, he was eager to get inside. I tested the cage too, and I do fit in it (not the first time I'm doing that). Festus was looking at me and sniffing me in the cage, while wagging his tail. He though it was fun.
Do you celebrate your dog/pet birthday?