It's time for this month's The Vegan Kind Box. In March I got only the lifestyle box, as the beauty box is every other month. I was so busy with things that I forgot I'm going to receive the box, so it was a lovely surprise. This month the box included 8 products and I am very happy with all of them.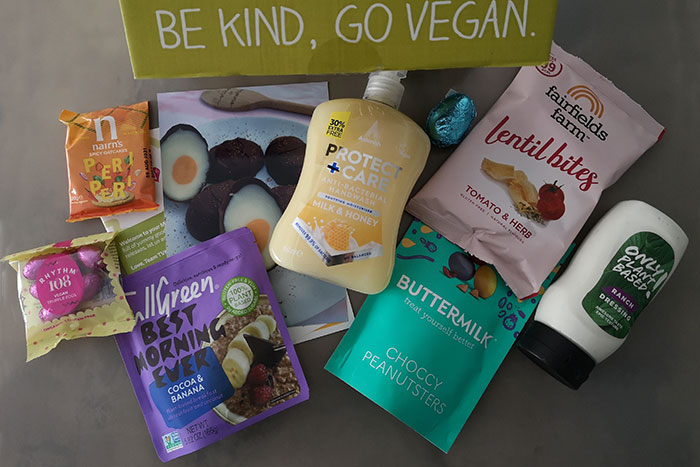 As usual, all but one are food items. The one that's not is a handwash from Astonish. This is a brand I've been using for some time now. Their cleaning products are amazing, I love the window cleaner, which I use regularly as a dog and French doors means a bit of extra work. The brand is British and the products, all vegan and cruelty-free, are made in West Yorkshire, so very low mileage to get to the shops I visit here in Liverpool. So I was happy to receive an item from them, even though it's something I bought before.
The Vegan Kind. March Box
Buttermilk – Choccy Peanutsters 100g (RRP £3.00) – these are peanuts covered in colourful chocolate shells. These are palm oil free and the packaging is compostable.
Astonish – Protect & Care Antibacterial Handwash, Milk & Honey (RRP £1.25) – this is really good, I've used it before.
Rhythm 108 – Organic Swiss Chocolate Truffle Mini Easter Eggs 36g (RRP £1.99) – Rhythm is a fab brand for vegan chocolate and I'm going to keep these for Easter. It's something that I would have bought myself.
Nairn's Peri Peri Oatcakes 20g (RRP for full box is £1.40) – this is a sample size and I'm curious about it. I like oatcakes, but I wouldn't have bought Peri Peri because it might be too spicy, so this way I can try it and see if I like it or I think it's too hot.
Full Green – Best Morning Ever Cocoa & Banana 165g (RRP £3.25) – well, this is something interesting. It looks like porridge, but it's made with cauliflower. It's also sugar free. Initially I thought it's a bit expensive, but after reading about it I changed my mind.
Only Plant Based! Ranch Dressing 325ml (RRP £2.95) – was a product I was excited about. I got my first Only Plant Based! product in another Vegan Kind box, for November, and I liked their Chipotle mayo so much that I bought it again, alongside a garlic mayo. I am looking forward to trying this dressing too.
Fairfields Farm – Tomato and Herb Lentil Bites 20g (RRP £0.75) – I like alternatives to crisps and I was happy to see this pack in the box. I will eat them tomorrow, when we are going to watch a movie.
Mummy Meagz – Chuckie Egg 40g (RRP £1.49) – is a vegan version of a cream egg, filled with fondant in two colours, exactly like the dairy version. We shared this and it was really good, as its dark chocolate balanced the sweetness of the fondant much better than the standard version. Assuming that I would buy either of them, I prefer this one when it comes to taste. I wouldn't and didn't buy the other one for many reasons, such as palm oil policy.
Overall the box was fab! I'm pleased with this month's box and I can't wait to try items from it in the next days.
Boxes are between £8 and £10, depending on the subscription, and £3.15 for P&P. Every month they give a donation to a charity and in March they picked Horse and Farm Animal Sanctuary, a charity based in Wales.