I saw a blog post written by Dana about her weekly shopping and I've decided to write a similar post, as an alternative to "What's cooking". It was an interesting experiment for me too as we don't usually buy everything we need for a week in one day. As we eat a lot of fresh fruits and vegetables, we have to go shopping quite often.
I think we spent a little more this week as I bought vanilla paste, chocolate spread, snacks and honey and I don't buy those weekly. Those would add up to a bit over £10, so we might be in the average spend category.
This was our main shop with another couple of small top-ups. Some of the things in here will last for more than 1 week and some are not on our usual shopping list, more of an impulse purchase. The total for this is £54, considering the top-ups, it got to approximately £65 per week for 2 adults. I obviously didn't include any alcohol and the dog's food is not included either. That is higher comparing to the £52.20 an average household spends on food on a week (average household has 2.4 people, so the spend should be under £50 for 2 to get close to the average). I took the information from ONS, if you want to have a look.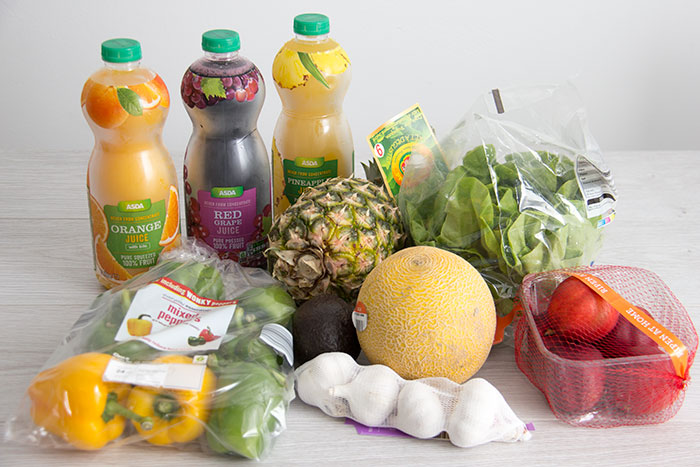 Fresh fruits and vegetables. I had some peppers at home so I made Pepper Soup with some of them. Avocado for a salad, salad, juice without added sugar for the daily smoothies. Besides this, we also bought tomatoes, bananas, strawberries, mushrooms, spring onion, beetroot and a bag of salad. The top up was around £6. In total: £15. That means a quarter of the food bill, double comparing with the average household spend.
Frozen and cans. I got some kale, shredded cabbage and oven baked potatoes. I like having frozen veggies, as I can add only a small portion when I'm cooking. I could have chopped my own cabbage, but it's quite cheap anyway. I had in the freezer carrots (those I chopped myself), peas and green beans.
When it comes to cans, I do use them a lot. I like those baked beans with reduced sugar, they have a mild taste and I always add lots of spices when I heat them up. It's like a base for a dish and I like that. The soup is great if I don't have time to cook. It's also great for breakfast with a sandwich if we are not in the mood for salad. We have a hearty breakfast every morning, I don't feel good if I don't eat enough in the mornings.
In total: £9. That is another 15% of the food spend.
Dairy and meat alternatives. These are a small part of our diet. I didn't get any cheddar as we had from the week before. The Quorn was on offer and this is why I got three. It was ok though, as it lasted for the whole week. I bought these last week and I still have salad cheese and the slices of Edam cheese, but we ran out of cheddar.
In total: £14, 23% of the food spend.
Baking and fun. It surely sounds better than sundries and I had no other idea how to call them. I got a bag of flour, this time self raising white flour. I regularly use 6 types of flour; in both varieties of white and wholemeal, I use plain, self raising and strong. Due to this, I have to buy flour almost every week as it's likely to run out of one type. With that flour I baked Olive oil scones yesterday. While I bake my own bread, this time I got some wraps too. I also got seeds for snacks, baking powder, condiments, tea, vanilla paste, sugar. The fun part is made up of honey, a quite expensive one, but I eat honey rarely, this small jar should last for a couple of months at least. My husband got a chocolate spread, not a fan of that, it's not on our shopping list again. We also got some popcorn and crisps.
In total: £22. Those small things were 37%, amazingly.
Pretty much this is what I buy weekly. I will continue to look at the expenses the next couple of weeks. Sorry if there are too many percentages, I have an affinity for them.
Doing this exercise made me realize that we eat pretty healthy, with more money spent on fruits and vegetables, most of our food is vegan. We keep the snacking to a minimum and replace crisps and popcorn at least once a week with spiced roasted seeds. We don't have a lot of meat alternatives as I do my best to keep those at a minimum too. A falafel burger is a better option as it's not processed and the ones my husband made were amazing.