As I'm very busy at the moment, it took longer to finish this post about Riverside Museum and Tall ship, two very interesting attractions in Glasgow.
I loved the street built in the museum, with all the stores and the underground station. We've seen a photographer's studio with the decor and we've had our picture taken, like in the old days. There isn't any way to send the picture by email and that's a shame, but it was funny nevertheless.
Here we were in the equestrian repairs shop. There were a few short movies about techniques used to make or repair horse saddles.
There is a pawnshop where we could see some objects that people used to pawn. Police officers were visiting this kind of shop regularly, to see if there were any stolen goods. On the street there is a shoemaker shop
Le Rendezvous cafe was very well know in Glasgow, from 1929 to 1985. The owner was making the ice cream on site and he was also selling cigarettes, tea, sweets and chocolate.
Furniture, made from real wood, carved with great skills. It was interesting to read about the furniture shops, where mockup rooms were built and furnished to show how the pieces would look in the house.
The pub had no tables and the law stated that the pub had to serve food. The pubs were a meeting place for men, after work, as women weren't welcomed.
Dressmakers shop, with lovely dresses in the window, a day-dress and one for evenings. Buying a dress was such a treat, making an appointment, discussing about latest fashion, having tea and cakes.
The tall ship, as we could see it from the museum.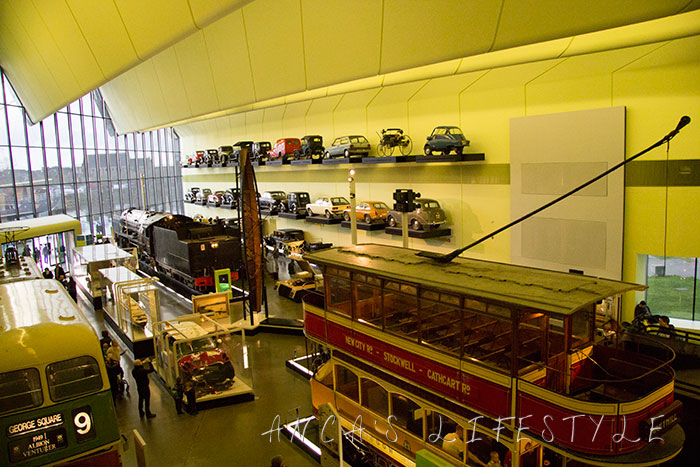 This is, maybe, the oldest pedal-driven bicycle in the world. It was a controversy with the invention of the bicycle, around 1840, the ones that look like the modern ones. So, it's not sure if this is the oldest or not, but it's the oldest surviving bicycle in the world.