As usual on the 1st of November, I'm sharing what we did yesterday for Halloween. Also, as usual, we stayed at home, waiting for children to come treat or tricking. It did rain a bit, 10 minutes or so around 7 and that might have put off people from coming out. That was a shame, we had children, but not as many as in the previous years. But, we've had our small neighbour coming to see us, all dressed up as a vampire, he was so cute. I've also liked a small girl with cat whiskers drawn on her face.
My outfit is obvious, I'm a witch, inspired maybe by my recent visit at The Museum of Witchcraft and Magic. My husband is dressed as Lucifer Morningstar from the series Lucifer. It proves handy to have a few suits and lots of shirts to pick from the wardrobe in this situations. We don't have a coordinated outfit. Who knows, maybe next time we should make a couple of changes and dress as Morticia and Gomez.
And this is how I looked when I was taking my wine&eyes break.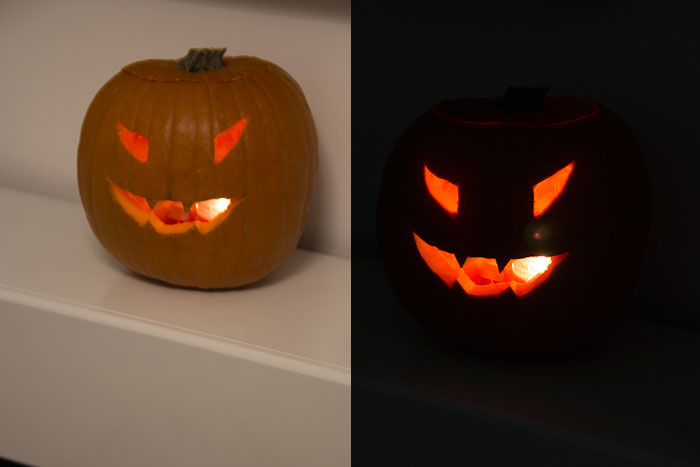 My husband carved the pumpkin and it looked fab, as always.
I prepared the food: Owl cupcakes, you can find the recipe for the owls and the pumpkin biscuits here. I've also made some white chocolate ghosts and dark chocolate bats. The eyes are the ones you can find in any shop. I think they looked funny in the glass.
These chocolate figurines were so easy to make. I've melted the chocolate in the microwave (temper it if you fancy, I didn't, as I've made only a few of each so it was pointless to faff with tempering) and pour it into some silicone ice cube trays. After that I've put the moulds in the fridge for a couple of hours. With a silicone mould is very easy to take out the chocolate figurines. I was impressed with how they turned out, especially as it took only 5 minutes to make.
Did you celebrate Halloween?