I discovered geocaching recently, on Elizabeth's blog about geocaching in Paris and the timing was perfect. I was sure hubby will like it and for his birthday we've been geocaching. He loved it! I had to tell him a couple of days before his birthday to give him the opportunity to choose where he wants to go. He decided he wants to stay closer to home, so we went geocaching in Liverpool.
The idea behind geocaching is simple, there is an app with the maps. On the maps are listed the locations of the geocaches and clues how to find them, their size and level of difficulty and they are found using the GPS. The geocaches are waterproof boxes. Inside the box there is a logbook with the names of the people who found it, if the box is bigger it also has some toys or other things. The trinkets that are inside the box can be swapped.
I logged our find on paper while hubby was logging it online.
We've searched for 5 geocaches and we found 3 of them, one wasn't any more and the other one was in a very busy location and we looked strange searching for a box so we gave up. We both find geocaching exciting as we've discovered places we weren't familiar with even though we are living in Liverpool for a few years.
The most thrilling part is finding the geocache, looking for the clues and finally discovering it. It was fun to see that only a few days before us there were a couple of entries. I like the bigger boxes as they contain some trinkets that I like to look at.
Geocaching made us discover these new places.
A new park, small, only 15-20 minutes from home with a lot of birds that I want to feed. It wasn't crowded as the bigger parks and that is the main reason we are going to a park.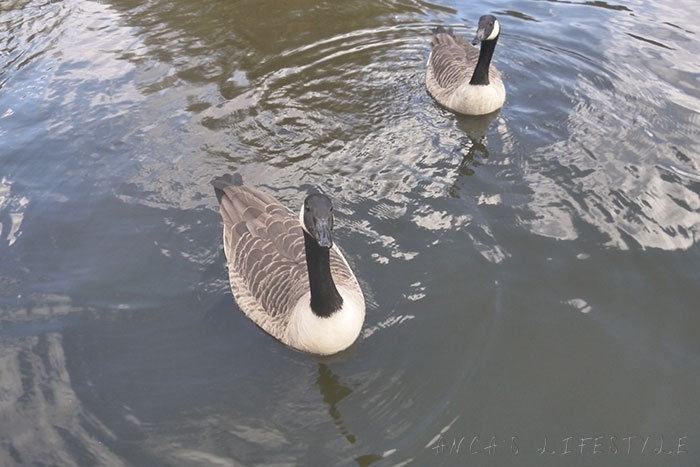 I mentioned the birds. I try to keep a bag of bird food in the boot for these type of occasions, but I keep forgetting to get another one after I feed them.
The Cast Iron Church is one of two similar churches. It is open only on Saturday and I couldn't visit it. It sounds very interesting, the interior was prefabricated and bolted on site 200 years ago. This church is, like the park, only a short drive from home, but I didn't know about it.
Liverpool has an extensive array of docks. The ones in the centre are well known as they are a tourist attraction with museums, restaurants, hotels and almost all the events are held there.
I looked on old maps and I saw how many docks there are on both sides of Mersey. I thought all of the other docks and the waterfront are part of a network of working docks and are closed or used for residential purposes.
The waterfront is accessible to the public and there are bicycles for hire, there are benches and lighting. It's a delight to walk there.
It was a lovely adventure and now I'm keen to go geocaching again. Hubby loves it too and it was one of the best things that I could "get" him for his birthday.