Update, 24/03. After 15 days, the herb garden looks like this:
As I've already disclosed in an older post, I'm a serial plant killer. But now, I am so happy with my attempts on gardening.
Last year we've bought the bushes, that already had ~50cm in height. They are doing great so far and I'm sure this year they will grow bigger. So far they are still alive!!
In the winter I've sowed bulbs of snowdrops, hyacinth and tulips. Until recently I've kept them in the back yard. But there isn't enough sun for them and we couldn't enjoy them, as it was too cold to stay outside. Anyway, it's not like I could have done something bad to them… I've sowed the bulbs and they grew by themselves. I've decided to let nature take the course and I didn't pour any water on them. I think was better like that and not my usual approach: no water for 10 days – gallons of water after that.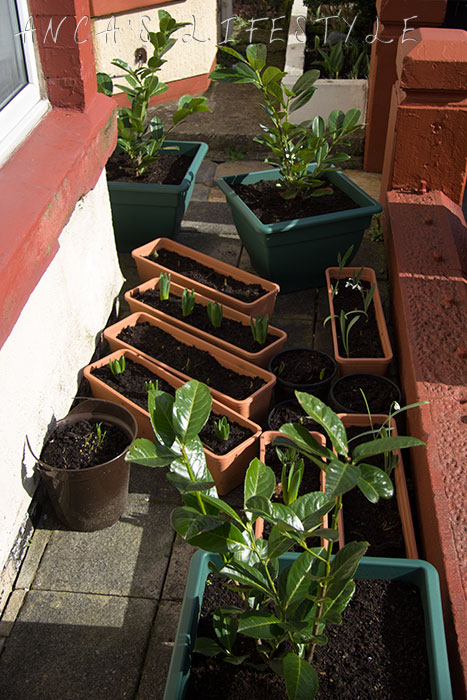 This is my soon-to-be herb garden. I've sowed the seeds a few days ago and now I wait for them to germinate. My husband helped me and put a small plastic bag on top of each to make a greehouse-ish effect.
I hope they will grow. Unlike with the flowers, I'm very careful with the plants that I eat and I still have a basil from last year! I would love to have new 10 herbs and cook with them.