I talked about the garden many times because it's very important for me. I lived in a flat for most of my life, in a busy city centre. Only a few years ago, after moving to UK, I had the opportunity to live in a house and I loved it. Our last house had a small yard, but big enough for a small table and a couple of chairs, a BBQ and some flowers.

After we bought our house last year, the garden was a priority as I mentioned in the post 5 tips for renovating .
We've started by removing the concrete slabs and sowing grass in September. In a few weeks the grass started to grow. In March I sow grass seeds again and hubby sprayed fertilizer. The grass started to be thicker and looked better. In May the garden gate was restored and covered with bamboo and we've went on with the other tasks.

I painted all the fence panels and it was a difficult task as the panels weren't coated before and they absorbed a lot of paint. On the fence near the conservatory we've decided to put the white panels to give it a little more colour and to support the climbing flowers.

I think it looks great and the climbing flowers are doing relatively fine, from 4 only one died and I'll have to replace it next year.
I would like some planters for that side of the fence, but it's on the list for next year. Along with this, I want to paint the concrete slabs with a special paint for concrete.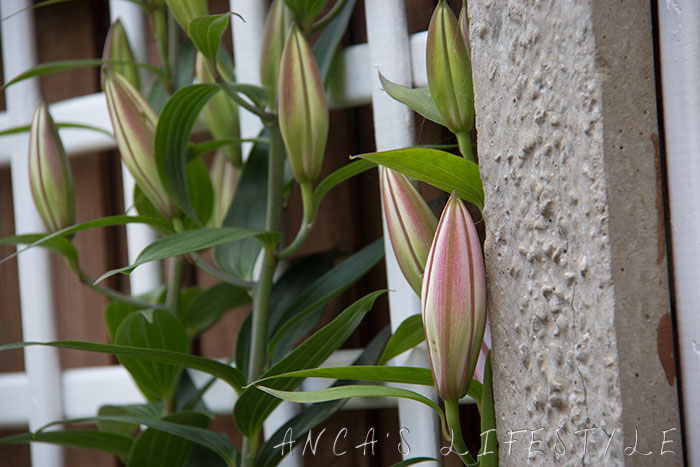 These are lilies from bulbs bought at Harrogate Flower Show early this year. I can't wait for them to bloom. The orange ones that I bough were lovely.

The climbing plants are Clematis and one of them bloomed this year, but not the one that grew the most. Anyway, I think the ones that survived are doing great.

On the other side of the garden the fence panels weren't that great for privacy. Instead of replacing them, I painted them for protection and covered all the backside with bamboo screening. The bamboo is fab, can't complain about it.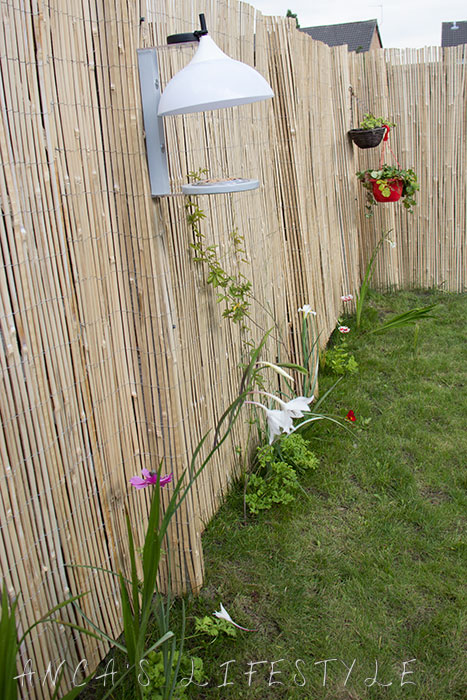 Near the screening I wanted some colour and I've planed bulbs with different types of flowers. I also replanted there the snowdrops, hyacinths and tulips. Next year they should grow and bloom in different periods and we should see flowers from January to September – October.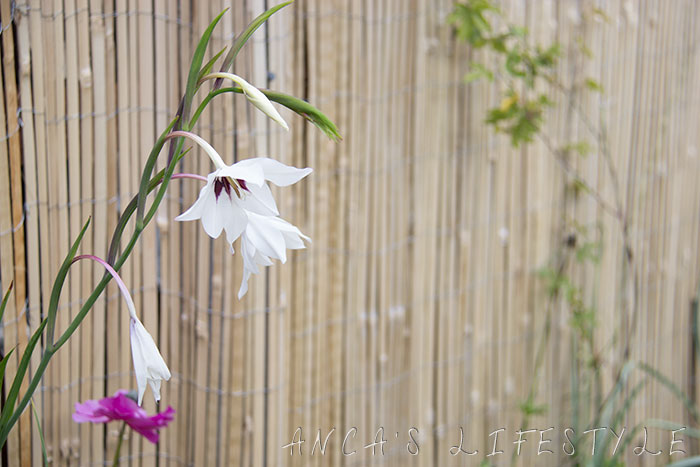 Some of the plants are tall and others are short, as I wanted a more natural look.

The climbing plant is passion flower. My mother sent us a pack of seeds early last year. We've planted them in a pot and in a few weeks we had a plant. When we moved the plant wasn't that high on our priority list, so I neglected it. But it survived and now is doing great. I hope that next year or the following year I'll see flowers.

More flowers are emerging. I love going to see what happens in the garden with the flowers.
Having flowers brings wildlife into our garden, there are bees and butterflies.

Near the house I have my salad and herb garden. Well, at the moment there are only a few pots with salad and herbs. Next year I want to make planters and have more types of salad and more herbs.
Salad was great this year, I had an unexpected high yield. I take only the outer leaves and small ones grow bigger and new leaves appear. The shop bought bags of salad are not as tasty as fresh cut salad from the garden and I hope I can harvest for another month.

The bird feeder is new and made by us by recycling a lamp that didn't make it when we moved it here.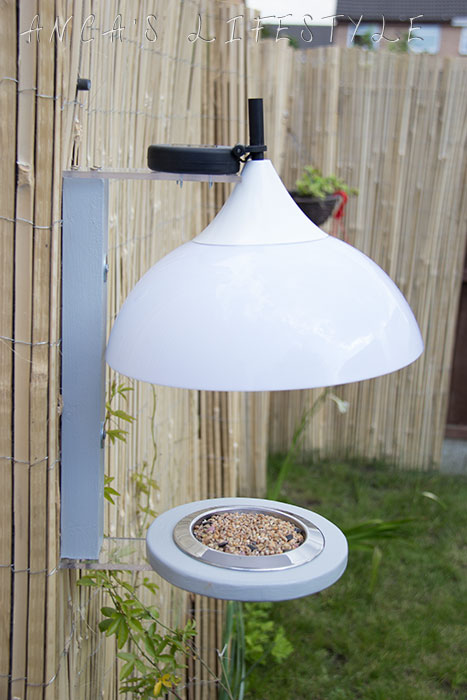 The black thing on top of the feeder is the solar power unit for lighting up the feeder during nighttime. It looks amazing. I don't think the pigeons will fancy a romantic dinner, but I love the way it looks.

I didn't expect so much light from a little led and with the lamp shade on top.
I think we managed to achieve a perfect balance between utility and beauty in the garden. I have 3 washing lines between the posts. I use the washing lines only 1-2 times a week as I prefer to do more loads at a time. We have different places in the garden for what we need: a table, a portable BBQ for the rare occasions we cook outside or smoke cheddar , flowers, salad and a green lawn for playing with the dog.
This is my garden and is the first from a small series of room presentations. On the second floor we still have to do things, mostly related to decor. But the ground floor is finished and I can blog about it.