At Sudley House in Liverpool it's a special exhibition called Transformation – One Man's Cross-Dressing Wardrobe. Both the museum and the exhibition are free.
Peter Farrer was born in Surrey in 1926 and lived in Liverpool for many years. His father was a schoolmaster and a clergyman. He started cross-dressing from the age of 14. He died this year aged 90. He had an interest in women's period costumes and he collected garments, evening dresses from the 30s to 80s. He liked dresses made from taffeta. The exhibition displays 21 garments from Peter's wardrobe.
Cross dressing means the wearing of clothing which is usually associated with the opposite sex to oneself. There can be different reasons to do that, from wearing them as a costume for a performance, transitioning from a gender to another or exploring part of their sexuality.
Peter identified himself as a straight man who liked to cross-dress. He had a clothing fetish centred on wearing of taffeta dresses.
Peter served in the Army for three years before going to Oxford University. In the background is a picture of him as a young man in the Civil Service. He was married twice and had a son and three stepsons. He wore his clothes in private.
Details of an evening dress made from polyester taffeta from around 1985 – 1990. The dress is beautiful.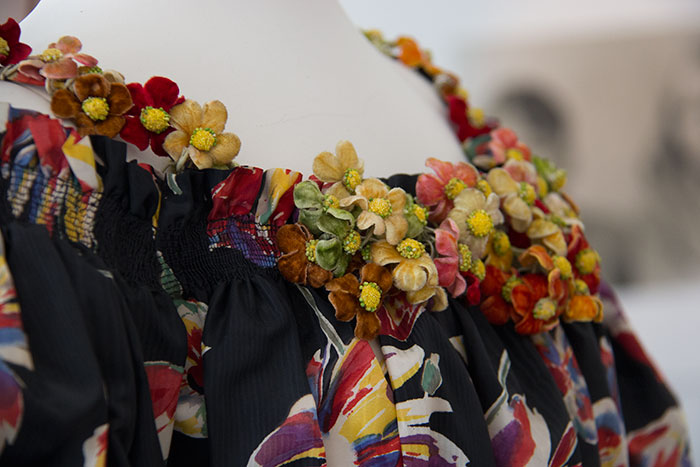 A rayon taffeta evening dress, printed, from about 1930 – 1935. The cleavage looks so beautiful, I like it a lot.
Evening dress with applied glass beads and sequins from 1950s.
I like this type of huge bows on the back of the dresses. This dress is from the early 60s.
I liked the exhibition very much. I didn't know much about cross dressing, so it was informative too. A couple of hundred years ago a woman in a pair of trousers would have been cross dressing. Who knows, maybe in a couple of hundred years time we wouldn't be bothered who wears a dress or a skirt.