Another year of Baking Along the Bake Off. I wasn't sure if I would have the time, but I did. Two weeks I prepared my desserts in the caravan, as I was away on holiday and in Oxford. I was delighted that David won, as he seems so lovely and his bakes were so great.
This year I wasn't as impressed with contestants overall though. For example, Helena was so keen on Halloween and witch stuff, perfect for a Halloween edition, but a bit strange when all her bakes were Halloween inspired. I loved her spider, but she wasn't as versatile as a winner of Bake Off should be. Did they pick her on purpose, to make the show a bit more edgy?
Another baker, Michelle, was so keen to show off her heritage, being born in Wales. I was really curious to see her bakes and loved the theme, but again it seemed a bit too much. Also, imagine my surprise when she said she doesn't know how a Tudor rose looks like… because she is Welsh?! Oh dear… the Tudor rose was a creation of Henry Tudor, born in Pembroke castle (Wales), to a welsh father, he landed in Milford Haven (south-west Wales) with his army, before gathering more welsh rebels before going into battle to take the crown from Richard III. I can't figure out if the producers were trying to be controversial or that she had no idea what her heritage actually is. Either way it was strange.
The challenges are listed, by week, as Signature – Technical – Showstopper. The recipes for my bakes are all shared on CookStyle.
Week 1 – Cake: Fruit Cake – 6 Angel Cake Slices – Birthday Cake that they would have loved as a child
I made the Wedgwood cake. It was something I was thinking of for a while and it was great that I had the opportunity to make it now.
Week 2 – Biscuits: 12 Decorated Chocolate Biscuit Bars – 12 Fig Rolls – 3D Biscuit Sculpture
I made Chocolate Coconut Biscuits and Fig Rolls. Loved the idea of the fig rolls and the biscuit bars, so I made both as I couldn't decided which one I'm more keen on.
Week 3 – Bread: Tear & Share Loaf – 8 White Burger Baps & 4 Veggie Burgers – Decorative Loaf Display
I made Tear and Share Pizza Loaf. My husband loves pizza and this seemed like the best choice.
Week 4 – Dairy : Cultured Dairy Cake – 12 Maids of Honour – Display of Mishti
I made Sandesh Mishti, some milk powder based biscuits. I liked them, my husband wasn't keen on them. A few months ago I bought some coconut milk powder and I might try to make a vegan version of Mishti using the coconut milk.
Week 5 – The Roaring Twenties: 4 Custard Pies – 18 Beignet Soufflés – Prohibition Era Cake
I made a Prohibition Upside Down Cake. This was a cake I baked while on camping and it turned out good. Considering how unimpressive the caravan oven is, I was very pleased with it.
Week 6 – Desserts: Layered Meringue Cake – 6 Verrines – Celebratory Bombe
I made a Foret Noire Bombe was the first thing we thought of after we saw the show. It was something we both like. It was also one of the most challenging bakes of the season, for us. After you make this kind of bakes a few times, it  gets very easy.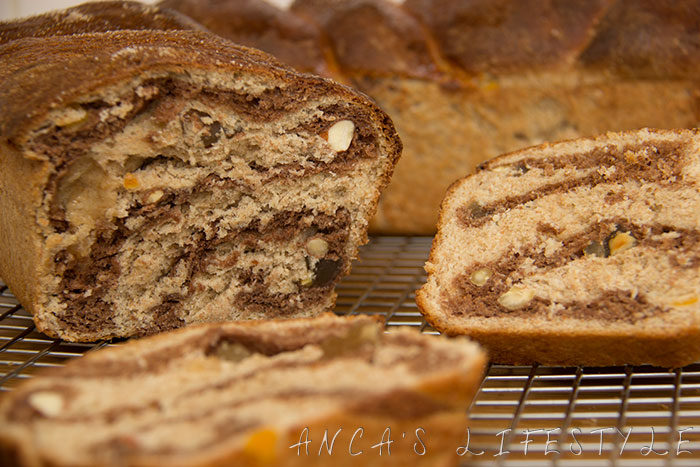 Week 7 – Festivals: 24 Festival Buns – 12 Sicilian Cassatelles – Kek Lapis Sarawak
I made cozonac on Tuesday morning and the first challenge was to make a festive bake. Cozonac is a Romanian festive bake and David made a similar bake, but using a Bulgarian recipe.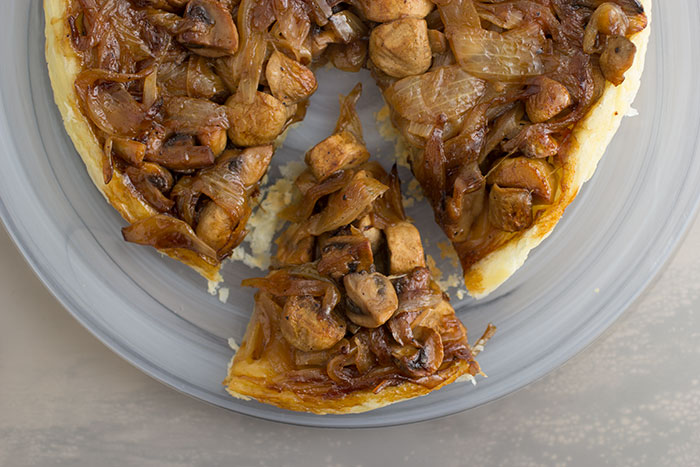 Week 8 – Pastries: Savoury Tarte Tatin – Moroccan Pie – Vertical Pie
I made Mushrooms and Onions Tarte Tatin, really good and very easy to make.
Week 9 – Pâtisserie: 8 Domed Tarts – Gâteau Saint Honoré – Sugar Glass Display Case
I made Merinque chocolate dessert with a dome. I had to improvise as I was away in Oxford. The initial thought was to make tarts, but I didn't find tart casings (with suitable ingredients, as in sustainable palm oil), so I made these instead. On top are energy balls.
Week 10 – Final: Ultimate Chocolate Cake – 6 Stilton Soufflés – Illusion Picnic Basket Feast
I made Chocolate Fudge Cake with white chocolate ganache. It was amazing!
These were my bakes for this year's GBBO bake along.