I love horses and at the cottage (my next post will be a short description of the cottage) someone kept his horse, Danny. When hubby told me the horse came to great him and the dog I was ecstatic. We though he's still young judging by his playfulness and curiosity, but he is a 12 years old boy.
I got the approval of feeding him treats and I fed him huge amounts of carrots and apples daily. Hubby said I overfed him, but I keep my assumption that it was fine (and it was only for 1 week).

He looks so funny in this picture, is one of my favourite.

This is how he was greeting us every morning. At around 7, his owner was taking him out in the field for the day. When he was hearing us calling him, he was coming fast to see us, it was incredible.

He was very gentle. It happened a couple of times to get my fingers stuck in his mouth and he didn't bite. He is such a sweetheart.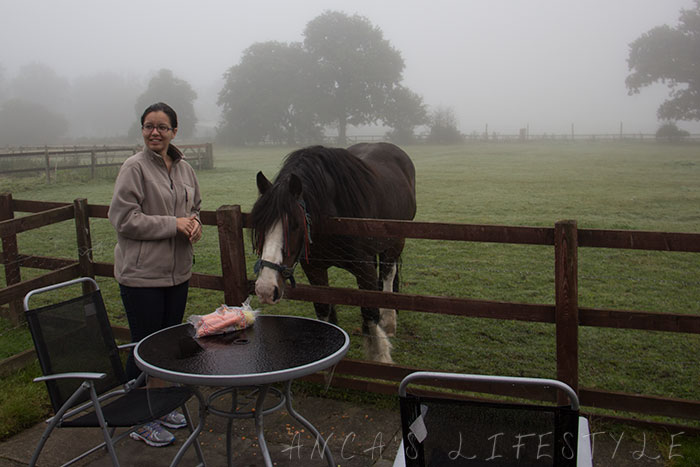 He was also a little greedy, trying to help himself from the table.

A couple of times we fed Festus and Danny together. Festus was too greedy, silly dog, so we had to stop. Danny is 15 times bigger than him, they can't eat the same amount.

After he had all his apples and carrots, Danny would try to find more in my pockets or just nibble on my jumper.

If I didn't get out early enough he would come to see what I'm doing. So I could see him looking at me from the bedroom window. He is a wonderful horse, so sociable and sweet, it was an amazing experience. I'm also chuffed to bits that Festus had the opportunity to meet him and they got along beautifully.