This month we've picked a welsh pub for lunch. We went out with work stuff and we've stopped by The Alyn, in Rossett, North Wales. We were hungry, so we've decided to have lunch too and not only a couple of coffees. The Alyn Riverside Country Pub is close to river Alyn, hence the name. It was a sunny day, but warm enough to stay outside. I imagine is great in the summer to have a pint of beer or a coffee outside and looking at the river.
The decor is lovely. There are so many nice pictures on the walls, a few old beams. During the Victorian era, the building was a hotel. In the 1870s the hotel was licensed to Edward Babb, a local councillor. He was a member of the Wrexham Board of Guardians, the board ran the local workhouse.
In 1894 Edward Babb was one of four charged with serving alcohol to two policemen who were on duty. At least technically, because policemen at that time were never off duty. The magistrates thought the law was too harsh, and decided to fine the landlords only a token one shilling each.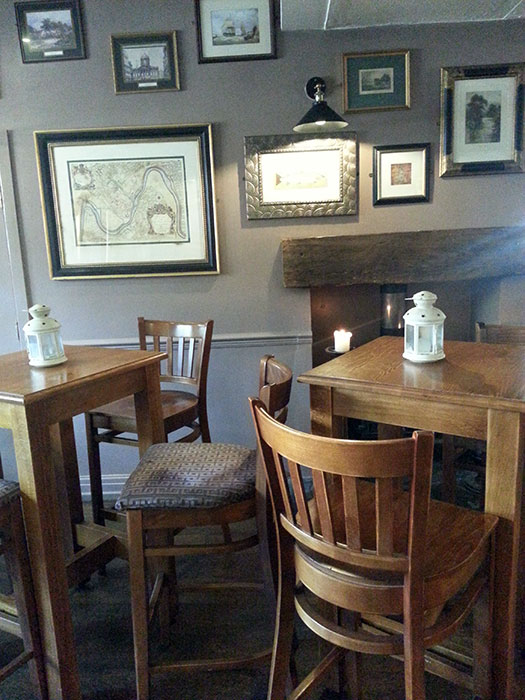 As usual, I had a black coffee and my husband wanted a latte. I always take a picture of his drink, as mine looks a bit boring, black and simple.
For lunch, I chose a sandwich with salad and coleslaw.
My husband picked the jacket potato with salad and coleslaw. As usual, both vegetarian options. I had a taste of both dishes, and I think the jacket potatoes were better.
Quite filling for a light lunch though. We ordered some water and the waiter suggests free tap water. I liked that a lot. As my husband was driving and we had work to do, neither of us wanted to order anything with alcohol in it. Neither is keen on soft drinks either, so being offered tap water in a lovely jug (that I forgot to photograph) is nice.
The Alyn pub is on Station Road, Rossett, Wrexham LL12 0HE. There is a decent size free car park. They also have Wifi.