I mentioned when I blogged about BBC Good Food Show Summer yesterday that I went to BBC Gardener's World Live too. It was the first time at this show. It is similar to the Harrogate Flower Show, pretty much the same size.

There was a flower marquee and the flowers were wonderful. All the exhibitors have small plants for sale and they will answer any question visitors might have about the plants. It's great to be able to have a chat when you consider growing something new that you are not familiar with.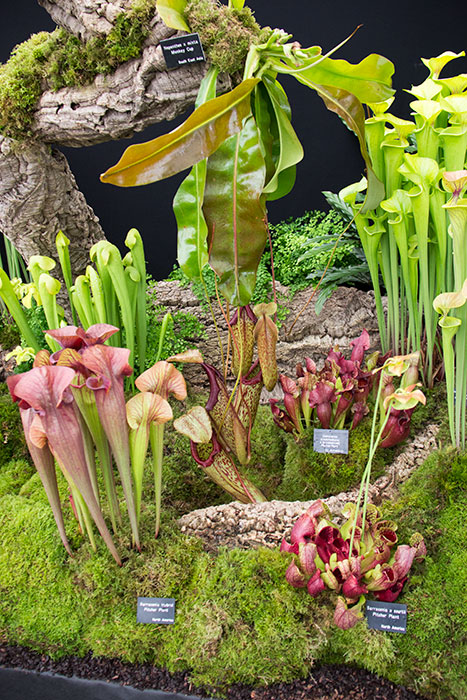 I liked the carnivor flowers the most and we are considering buying a few as pest control for your garden. I will have to read more about it, but it seems like a great idea at the moment, as I'm looking for a natural way to control pests. I will also have to see if my approach that I can only describe as "laissez-faire" is an actual option for carnivores.

The cactuses are gorgeous, some of them in bloom and looking a little alien. I would love to have a cactus, but I'm not sure I have a perfect spot for it and I never had a cactus before.
In the flower marquee there were orchids, roses and lots of other beautiful flowers. It's a delight only to wander around them. Also there were stalls with veggies. I noticed one with seeds of heritage plants and I took a leaflet. Next year, if I'll manage to finish a sort of a green house or something similar where I can plant some flowers and veggies, I will buy seeds from them. At the moment I don't have the time for it.

Look at those tomatoes, aren't they delicious.
Outside of the flower marquee there were gardens, lots of stalls with flowers, seeds, garden furniture and decor. The Show Gardens​ were beautiful.

I like this raised bed and I am considering doing something similar in my garden, along with the veggie think I want to do. This is one of the reasons I can't make it now, it involves a little bit of DIY. As our garden is not huge, we need to make everything to fit and use the space wisely.

I think these artichokes look amazing and they have delicious flowers (my husband doesn't necessarily agree with me on this matter).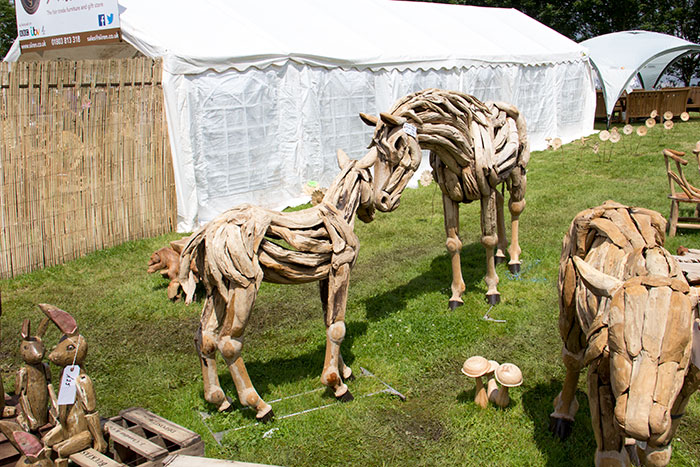 I'm not keen on garden decor as I want a more natural look and also the dog might bark or at least want to play with something like these beautiful statues. But, when I saw them like this, I was considering getting them. They look so sweet.
There was a company specialized in artificial grass. They had beautiful sculptures inside and a few outside too.

There was a competition called "A meal in the wheelbarrow" with stunning displays and a short recipe. It's a lovely idea.

The Donkey Sanctuary were there too, along other charities to raise money and awareness about their charity. The donkeys were so cute and friendly. I heard about them, but never managed to visit them.

The furniture was wonderful, so many different choices, really beautiful.

This is a greenhouse, only from glass and sim-less. I think this kind of greenhouse would look perfect even in a posh small garden.

Another thing I liked a lot were these iron fairy doors and windows, all with a working chimney. I think fairy doors are cute, but these ones are even more pretty.

Beehive at the Beekeepers Association's stand. There were also bees at the show, in an tall enclosure, but without a ceiling, so the bees were able to fly to get their hood.
I enjoyed my time at the Gardener's World. I would like to visit it again next year.