I love opera, since I was a teenager I loved going to the opera. It's obvious that I was so excited by the prospect of seeing Carmen at the Arena di Verona. We visited the Arena during the daytime, so I'm sharing quite a few photos from that very special day.
The Roman Amphitheatre was built in the early 1st century CE. At that point it was located outside the city walls. What is notably is that the Arena was built decades before the Coliseum in Rome. Its size is impressive too, being ranked 8th in the Roman Empire and 4th in Italy after Rome, Capua, and Milan.
The Arena was included in the city when new walls were built in 265 CE. In medieval times the height of the Arena was reduced by 12 metres. In that period executions and duels were taking place there.
In the 18th century a wooden stage was installed and shows were staged in the Arena again. Some of the entertainment was not as cultured as today, it included greasy pole climbing, parodies of Medieval tournaments, and bull-baiting.
The Arena is open to the public to be seen during day-time even if there is an opera in the evening.
People can sit on the stone, exactly as people did almost 2,000 years ago. We got tickets for the new seats, but still in the raised area of the Arena.
In August 1913, to mark the centenary of the birth of Guiseppe Verdi a performance of Aida was staged in the Arena. From that point each summer there is an opera season, obviously the exception was during both world wars.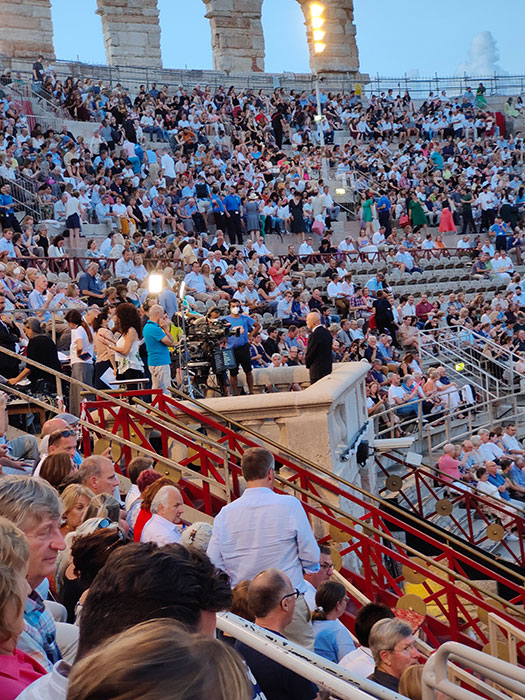 From the minute we got into the Arena it felt so special.
We went to see Carmen, which is my favourite opera. It was amazing. It lasted a bit longer, but not too long either, considering that they had to set up the scenes in open air.
I loved every minute of it.