The Vibe Café is a plant-based coffee shop in Liverpool. They have amazing food, amazing desserts, and a perfect location in the city centre. They are in walking distance of L1's shopping centre, from Albert Dock and its lovely museums, and very close to a lot of transport links too.
The staff is friendly and helpful. It is a family run business, so perfect for the ones who like to support small local businesses. My husband and I went there a few times before I made this post, just because it's so nice. The pictures are taken at different times. Check their website for more details.
I will start with their Specialty Lattes, clockwise, from top left: Lavender latte, Chai latte, Matcha latte, and Pink Velvet latte (with beetroot). One is £3.95, so quite a good value for money. I liked all of them and I would gladly have any of them again. Chai latte works great with the chocolate desserts, if you want to keep that in mind.
This is CORONATION CAULI WRAP – Roast cauliflower tossed in our homemade coronation mix with greens wrapped in a beetroot and chia tortilla. It's £4.95. It's very good, a perfect light lunch.
Spud bowl – A base of baked potato topped with our house beans and fresh greens, red cabbage and a dollop of houmous and roasted chickpeas and seeds. It's £8.95. This is one of their bowls, they have a few different ones. It's a nice, filling meal. I am not sure I would pick this one, as their other options sound more interesting, but this was ok nonetheless.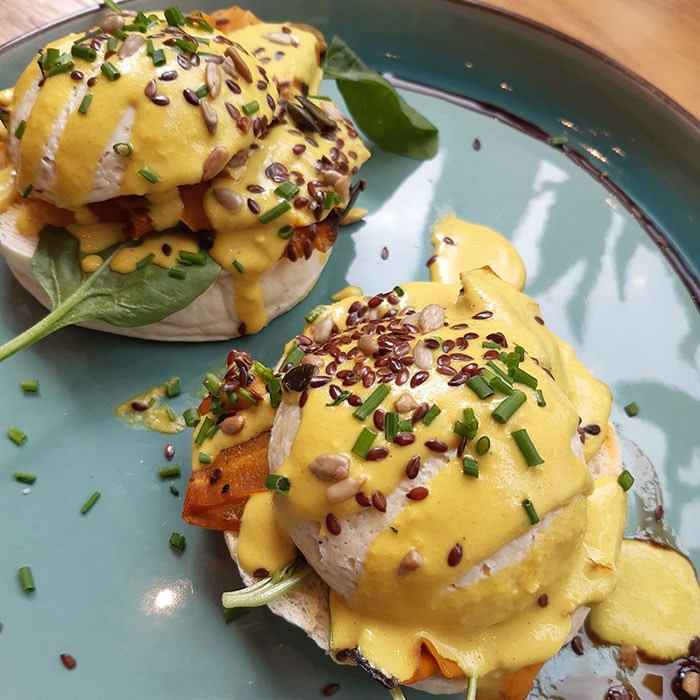 VEGGS ROYALE – Homemade vegan poached eggs on a bed of spinach,smoked carrot 'salmon' and an English muffin,smothered in hollandaise sauce. It's £9.95. I loved this, the texture of the "egg" is realistic and it has a lovely and creamy centre. I was impressed with this and I would gladly have it again.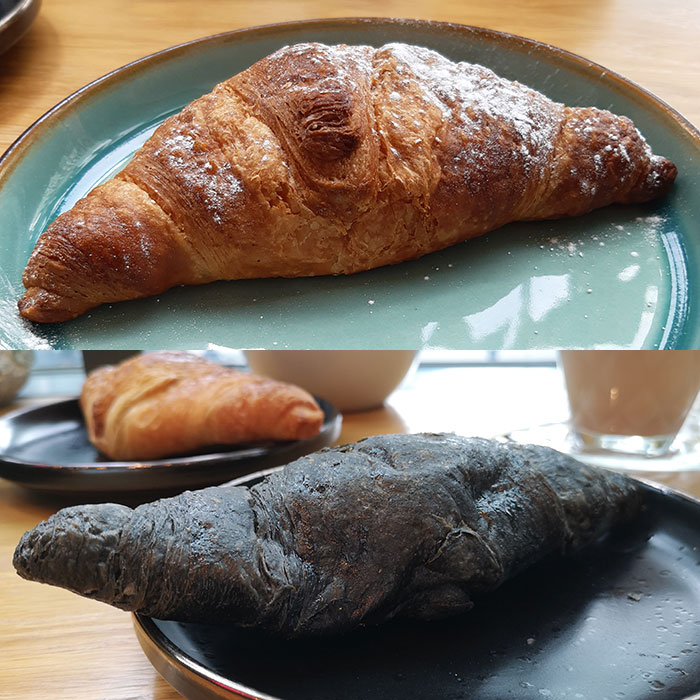 Now, for vegans and non-vegans… the most important thing: the desserts. So, the croissants are really good. The white one is with chocolate and the black one is with charcoal. I like both, but I prefer the charcoal one, possibly because it's so black and I love that. These are really good with a latte.
The caramel slice was very good and smooth, I enjoyed it a lot. The orange and chocolate cheesecake was very nice too, smooth and delicious, full of flavour. I don't think anyone would realise these are not made with dairy cheese.
Last but not least, the chocolate and caramel cake, which is delicious. This is another dessert I would happily have again and again and again.
The Vibe Café is in Unit 1a, Chancery House, 96 Paradise St, Liverpool L1 3HE.