This week my husband and I took the dog caravanning for the first time. It was like a trial-holiday, to see if we have everything we need, as we have an old, used caravan. Well, it went very good, even better than expected. For example, I realized I need lots of other things to make the caravanning trip even smoother, like clips for opened snack bags. I could have taken a few from home, but I didn't think I would need them.
As we bought an old caravan, we were expecting it to have some issues, but it's pretty good. We discovered that the full awning has a couple of poles missing. It's not a big thing, as we can order them from the manufacturer's website. Now we know how to put up the awning and that is helpful too.
After this post, I will make a few more posts about what I cooked in the caravan, about the games we played and the things we visited. It was only a 4-day trip, but we managed to visit quite a few places and I'll blog about them in the following month.

We went to Anglesey, found a lovely and quiet caravan site a few minutes off the motorway and we set up the caravan. The caravan site was in a lovely location and there were lots and lots of bunnies running around and having a snack near the caravans. Festus wanted to chase them, but he wasn't as keen as he is on cats. We obviously took him out with the lead on, so it's easier to distract him.

Festus loved the caravan, he felt at home as soon as he got in. I was expecting him to sniff everywhere and get a little excited, but he didn't. He was relaxed from the beginning. We've discovered that the caravan feels spacious when we are relaxing, but doing the bed is quite a struggle. So hubby was so helpful and was taking the dog out for a play while I was making the bed…

The bed is huge. The caravan is a 2 berth, but I think 2 adults and a couple of kids can sleep there without any issues.

Festus waited to have his paws cleaned before getting into the caravan. He was funny when we was jumping in or out the caravan, as he saw the step as a thing to be avoided.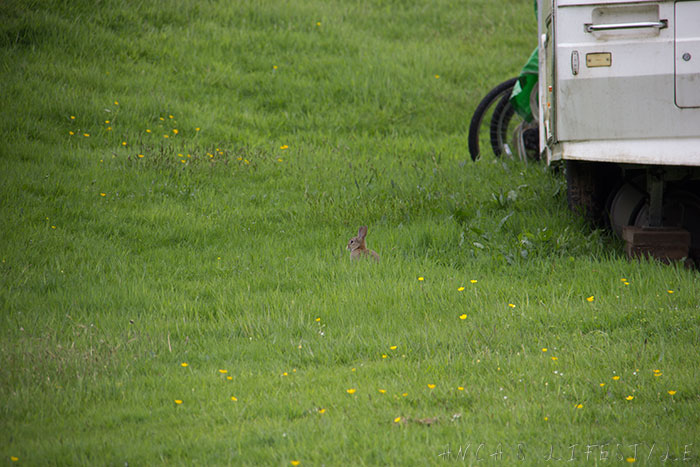 The bunnies. There were so many, I could count up to 10 at a time. Although they were a little scared of us and as soon as we were out with the camera they were jumping in the nearby hedgerow.

Hubby was able to get a close-up of one of the bunnies. I think he had 3 brothers, as there were 4 small bunnies exactly near our caravan. We used to watch them have their breakfast while we were having our breakfast.

We visited the National Slate Museum, but it wasn't fully opened and there wasn't the slate splitting demonstration on the day we've been. So it wasn't as exciting as I hoped for, but I would go back and visit it when all the exhibits are open to the public.

We've also been to the village of Llanfairpwllgwyngyllgogerychwyrndrobwllllantysiliogogogoch. It's a Welsh name that is translated as: St Mary's Church in the Hollow of the White Hazel near a Rapid Whirlpool and the Church of St. Tysilio near the Red Cave. Is listed in the Guinness Book of Records and it's the village with the longest name in the World.
Other places that we've visited and I will post about are Electric Mountain, Caernarfon Castle, Holy Island and Rex Whistler.