This is what we've prepared for this year's Christmas. Hubby had 2 additional dishes with meat, but I didn't show them here. Hubby insisted on the Romanian dishes, as he likes them. I preferred the other ones, less traditional.
These are blue cheese canapes. The base is shop bought, filled with a mixture of Stilton with soft cheese and double cream. They were exquisite and so easy to make.
Deviled eggs, made with the usual recipe, mayo and mustard.
Roasted baby plum tomatoes, drizzled with olive oil and herbs.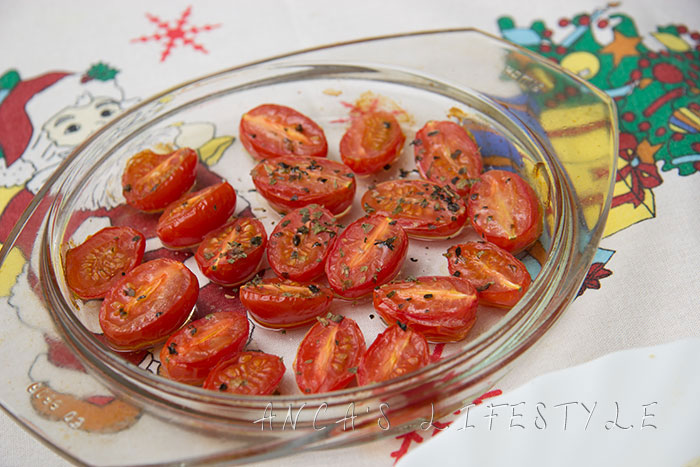 Mushrooms with homemade mayo and picked gherkins.
As I love cheese, it can't be a Christmas day without a cheese plate: spiced cedar, extra mature cedar, cedar with cramberries, mozzarella, cedar with apricots and feta.
Aubergine rolls, stuffed with mini vegetarian sausages. I wasn't that impressed with those sausages, it was the 1st time I've tried them.
Baked Camembert with homemade red onion and wine chutney.
After the starters we've enjoyed a roasted potatoes and garlic soup. Another dish that I've tried for the 1st time, but I'm very happy with it. Lovely texture and tastes great.
The next dish is a Romanian classic, dolmades in pickled cabbage leafs. It is served with polenta and sour cream. Usually they are made with mince meat (pork or mixture of pork and beef), but I made them vegetarian, with soy instead of meat.
Grilled halloumi with sweet potatoes chips and baked Brussels sprouts.
Cozonac, a traditional Romanian desert, a sweet loaf filled with Turkish delight.
The sweet bread is made with eggs, milk and sugar. The way I make it is from a family tradition, passed from my great-grandmother to my mother and then to me. A part of the dough is mixed with cacao, unlike the most common recipes. The loaf is filled with walnuts and Turkish delight.
Christmas pudding, shop bought. I was very happy with it. But the cream is homemade, from double cream with a hint of Bailey's.
Two different types of mince pies. I wanted to make them myself, but as I would have to buy the mincemeat from the store, it was pointless to make them at home. I found the iced ones a little too sweet. Hopefully, next year I'll have more time to cook and I'll try my 1st batch of mincepies with homemade mincemeat.
Puff pastry filled with homemade chocolate cream and whipped cream. Lovely and very easy to make.
Fruit cake, very rich and lovely. As it was 3 months matured, I think next year I'll give it a go and make it myself.