A couple of weeks ago I went to Boomers and Swingers at Astley Golf Driving Range to play golf. I never played golf before, as miniature golf is not a proper sport. I enjoyed myself so much that I've decided to make a post about it.
Firstly, it is quite difficult to play. I didn't imagine that. But in an hour I was starting to understand how to hit the ball so it went a bit further. The guy from Boomers and Swingers was very friendly and helpful, he gave us some tips on how to play and came to check up on us. I've really had a lovely time and I'd love to go back to play golf again.
It look like the ball went miles away, but it was sunny. I didn't even realize my husband was taking this picture of me, as I was so engaged with what I was doing.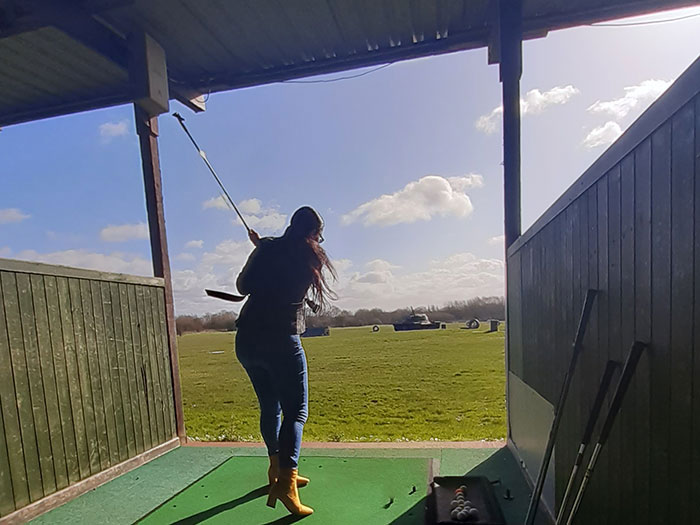 As you can see in the background, there are some tanks in there. Those are real tanks, although most of them do not have the engine any more. One of the goals is to hit them, but, well, that is not as easy as it might seem. Anyway, it was really fun giving it a try.
After our session I was tired and on the following day I had a bit of muscle ache from playing it. I have to admit I thought golf requires only skill and is not physical demanding at all, so that was a bit of a surprise. I counted this session towards my goal of 52 workouts this year because of it.
Also, it is so much fun. I've enjoyed it much more than I expected. It is relaxing and quiet, even in a place where other people were playing nearby.
Boomers and Swingers at Astley Golf Driving Range is on Manchester Road, Astley, M29 7EJ, Manchester. Check on their website for details about opening times and prices. They are obviously closed at the moment due to coronavirus lockdown.