Last weekend I had no idea I'm going to this blogger event in Liverpool. I took the decision to buy my ticket in the last minute, on Monday, after seeing how excited was everybody about the event. Jenny organised this event and everything was just great. It was a good idea as I had so much fun yesterday. I also had a chance to talk with a few of my favourite bloggers: Sarah, Dana and Cheryl. I was delighted to have met Rebecca, we've been chatting for ages and it was fab to finally meet. I hope we'll be able to see again, soon.
The event took place at Fruit and fibres, a canteen and craft workshop. It's a new place, opened in April in an old industrial site.
The first presentation was made by Andrea from My Showcase. She talked about the brands and presented the products.
Tiffany from Stella and dot followed and she told us the story behind the brand.
Next we saw some lovely clothes from Taking Shape. They have a few stores all around UK and two of them are local, one in Liverpool and another one in Southport.
The lovely Hannah presented the beautiful makeup pallets from Motives Cosmetics.
This beautiful cupcake was delicious too, courtesy of Motives.
I tried a Bubble tea, pina colada flavour with passion fruit bubbles. It was delicious. I loved the bubbles and the way they were bursting with a different flavour.
Brittany from Noctua had a small display or her creations. She held a jewellery making workshop, where we made our own bracelets.
I took pictures of my creation. It was fun. I didn't expect to enjoy it so much, but it's something I would love to do again.
Here is the bracelet I made. I am thinking of buying some beads and stones to make matching earrings and a necklace. It's very relaxing to make jewellery, I enjoyed it a lot.
We had a lovely lunch. I took pictures only of the vegetarian options, but there were many other dishes too. The food was very tasty and the menu was impressive: cheese sandwiches, two types of salad, veggie chips, crackers, humous, vol-au-vents with a Moroccan filling, corn balls and a tomato and oranges jam.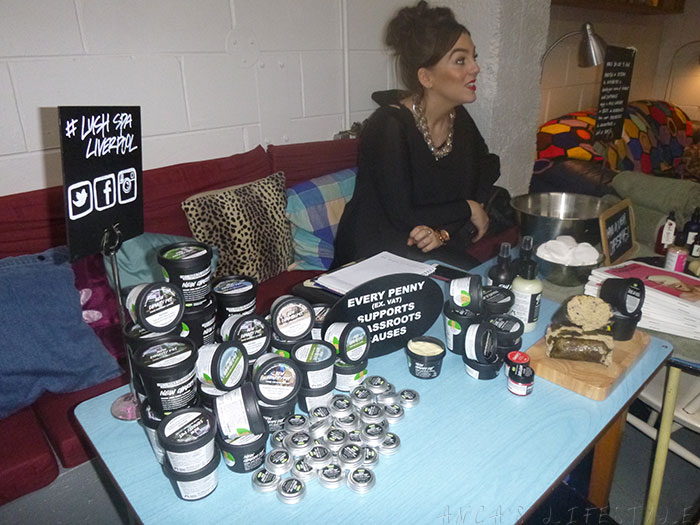 There was a team from Lush. They told us how much Lush gets involved in charities and fundraising.
At the end we were able to buy a few things donated by other bloggers. I was so happy to see that all the items I brought were bought.
One of the items, a dog toy, was a success as you can see from the picture.
Next it was the raffle. My ticket was the first one and I could chose what I wanted. It was so exciting. I had a look and I wanted the Degustabox. I read about it on Corinne's blog and I was wondering if I should buy or not, almost paid for one. The only thing that put me off is that not all the items are vegetarian.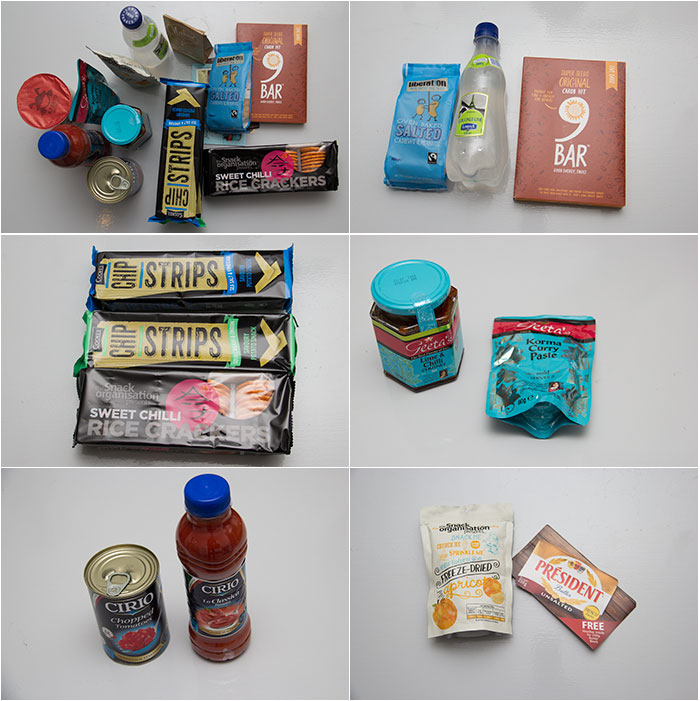 The box was filled with goodies. Beside the marshmallows and the chicken noodles, everything else was vegetarian or vegan.
I can't wait to try the Indian paste, korma will be on the menu today or tomorrow. Another thing I can't wait to try is the freeze dried apricots. I'm going to use them as part of a dessert, maybe a panna cotta.
There were some chip strips that looked fun and have a mild taste. The coconut and lime juice was yummy, it had a wonderful smell and the flavour was beautiful, it's something I would buy. I still have to try the other goodies.
Before leaving, I also received a big goodie bag. I took pictures of everything, so here it is.
a couple of samples from Lush and a bubble bar. I can't wait to try them; a small cleanser from Bee Good; post waxing cream from MooGoo Skincare; a nail file from Taking shape, a hand cream from Crabtree & Evelyn, chips from PopChips and a set of face creams and a body butter from DermaV10.
It was a great event and I had a wonderful time. I will definitely get tickets for the next event organised by Jenny.