I visited the Queen's Gallery at Buckingham Palace last month, as our annual pass was soon expiring and I did not want to miss the chance of seeing their latest exhibition George IV: Art & Spectacle. It is still on until 3 May 2020. Next one is between 12 June – 8 November 2020 and it is about Japan: Courts and Culture. I've been to the Queen's Gallery at Buckingham Palace before, for the Russia exhibition. I've also been to the Queen's Gallery at Palace of Holyroodhouse, Edinburgh, for the special exhibition on Charles II.
Due to light glaring on the paintings, I had to take the pictures at an angle, a few times. That's unfortunate.
It was a lovely day in London. On the same day, we went to the National Gallery.
I am very keen in learning more about George IV, especially after visiting the Royal Pavilion in Brighton last year. So, seeing this exhibition was the first step. I bought two books from the gift shop and I will read those soon, maybe during the school holidays, next month.
In these paintings are, from top left to bottom right: Queen Charlotte, Princess Sophia, Princess Amelia, Princess Augusta, Princess Mary, and Princess Elizabeth, George IV's mother and five of his sisters.
Princess Charlotte, George's only daughter, appears in this painting shortly after her marriage, an year before her death in the childbed.
This was a rather surprising find in the exhibition. It is a copy of Emma, dedicated to George, by Jane Austen. He loved reading novels, especially hers. He had a copy of her works in each of his residences.
Louis XVI, the French king killed in 1793, during the French Revolution.
He will be followed by Napoleon. I find it ironic, that Louis XVI was, apparently, a tyrant, but he was followed, after the whole Liberté, égalité, fraternité, by Napoleon. Who was a minor Corsican noble, who has made himself an Emperor, put his brothers and brothers-in-law on the thrones of other European countries, who divorced a wife he was very close to and who helped him get where he was, just so he could have an heir to inherit his throne. He also changed the laws so women had even less power than under the previous regime. Also, the tyrant's (as in Louis) wife, Marie-Antoinette, was seen as inconsiderate because she was spending all that money on parties and clothes… buying 150 dresses a year. Josephine, as Empresses, bought up to 900 an year. Louis had no mistress, Napoleon had dozens. While I have no idea if someone misses Louis XVI in France, Napoleon is still missed, books are still written about him. I find that fascinating.
Despite appearances, the people duelling are both men, Chevalier de Saint-Georges and Chevalier d'Eon. George is behind them, watching the match. D'Eon lived in London as a woman, earning money with celebrity fencing matches. Saint-Georges was composing music when he was not fencing.
Details of the bust of Emperor Charles V, from 1555. The bust of Philip II of Spain (his son, spouse of Queen Mary I) was displayed in the same room.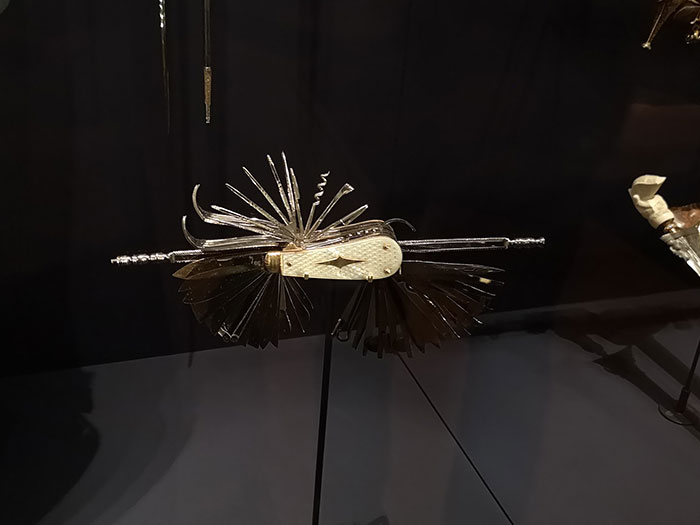 This pocket knife is from 1821, made by Joseph Rodgers and sons, in Sheffield.
Statue of Louis XIV.
This was my visit to the Queen's Gallery at Buckingham Palace. The staircase is so beautiful, with these gorgeous details.
After seeing the exhibition, I went to the gift shop and got two books and some tea. Now I'm looking forward to reading the books. Both should be very interesting.