My husband and I went to the Color run in Manchester yesterday, after winning tickets in a giveaway hosted by the lovely misspond. I had some knee issues during the race from an old injury, but, even so, I managed to finish the race. I've been to a similar run last year and that was slightly different, I enjoyed it a lot. But this time my husband ran with me and it was so much better. He is not a keen runner (neither am I), so we were more focused on having fun.
It was a gloom day in the morning, but we left home hoping the weather will be nice. I posted a picture on Instagram in the car on our way to Manchester. I planned to take another picture with the phone after the race, but it started to rain after we left the stadium and it rained until we got to our car. This involved more running, but not a good opportunity to take a picture. Obviously, as soon as we left, the sky cleared.

We were ready to start the race.

We were in the middle of the crowd. The weather was perfect for running, not too hot and only a few drops of rain once in a while.

These was the queue after us, it was huge.
We've started the race and I told myself (and my husband) that we shouldn't start overtaking people as this means we'll run out of energy after a couple of km.

We reached the first check point, 1 km done, 4 more to go.

The 2nd check point.

This was a nice surprise. I had no idea there will be bubbles. It was fun and it gave people time to catch their breath.

3rd check point meant we've run for 3 km. I had a small serving of orange dye, it's food graded, so safe to eat.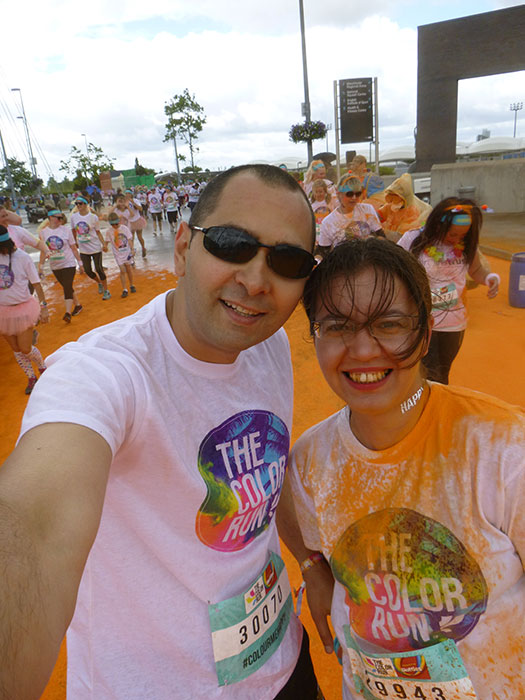 We were reaching the 4th check point.

People were queuing again, this time for the last check point, with all the colours.

We've made it.

At the finish we've received a small bottle of water and a packet of dye each.

After the race everybody was enjoying themselves.
Have you been to a Color run before?