I made my own perfume! Last weekend I've been to London to a blogger event organized by LightsbyTENA. I went to London by train, as it's so much faster than driving and it was a great idea, as there were Chinese New Year celebrations in Trafalgar Square and roads were closed. I will share a couple of imagines from London in another post.
I arrived at Haymarket Hotel with only a couple of seconds to spare. The event started with a glass of Champagne, talking with bloggers I already know and follow and I also got to meet new bloggers too, like Hannah, Natalie, Jessica, Toni, and Laura. We had some nibbles and more chat.
We had a presentation of the products and talked about a subject that is not talked about a lot, despite the fact that 1 in 3 women in the UK will experience this, at some point in their lives. LightsbyTENA are trying to raise awareness for women between 30 and 45, pregnant women and new mums, where 1 in 10 will experience light bladder weakness. They received 2 awards last year and the products have had big changes in 2016. One of the changes is that was introduced the feel fresh technology.
LightsbyTENA have decided that the best way to make women who are experiencing this to try the products is to offer money back guarantee, so this is how the Feel Fresh or it's Free campaign has started. If anyone who tries the product is not happy, they can claim their money back online. It's quite easy and the offer is available until 30th June this year. So, if you think you might need one of their products, do try, it's risk free. The prices start at £1.99 per pack.
We were told about my PFF app, that is free. Having pelvic floor exercises will help with light bladder weakness. I think a reminder is great and I, for one, always forget to do them.
I think we should be able to talk openly about this, if it's something we want to do. There is a stigma around some health problems and it shouldn't be like this. Light bladder weakness is more common than hayfever, but most people have no issues discussing the latter while avoiding the former.
Black coffee and a strawberry coated in dark chocolate, a real delight.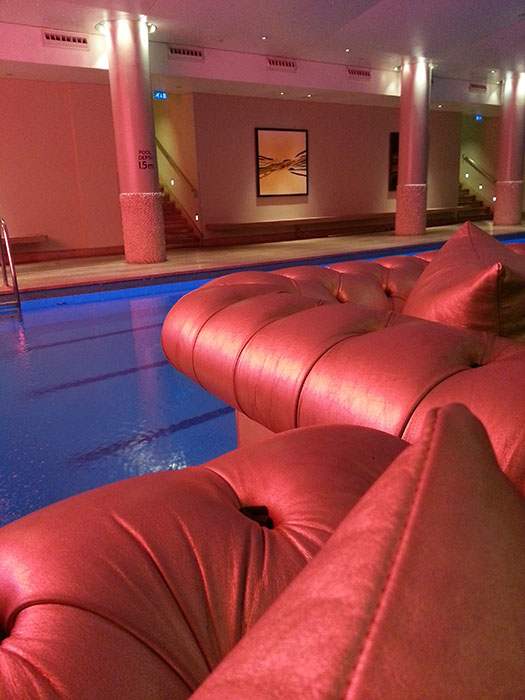 After that, we had a short break while the perfume masterclass was set up. I got the chance to look again at that beautiful swimming pool and chat a little more.
The perfume masterclass was held by Emmanuelle from Experimental Perfume Club. She was lovely and she told us a lot about perfumes, how they are made and why. We got to sniff 15 raw materials without knowing what they are. It was really interesting.
One of the things I found most intriguing was that I don't like the leather smell at all. I've been vegetarian for 9 years and, in time, I started rejecting the smell of meat. It was fascinating to see that the smell of leather was something I've rejected too without even knowing what it is.
After we sniffed all these raw materials, we had to chose the ones we want to incorporate in our perfume. I picked 8, the minimum amount of materials. If there aren't enough, the perfume will smell like a raw material and not a complex perfume. I picked one top note, 5 heart notes and 2 for base. As I wanted a more intense perfume, my percentages were a little different from the ones used in general. I calculated how much I should use from each raw material. After consulting with Emmanuelle, I've adjusted the grams and I've started making the perfume.
When I finished, I tried the perfume and I loved it. After waiting for 5 minutes, I thought that it might be heavy. So, I've adjusted the perfume as Emmanuelle said. Well, it turned out that I loved the first version. So I had to do 2 more adjustments to get back to that smell, hence the: 1st version, final, FINAL and very final smelling strips.
We also had to chose a name for our perfume and I come up with "Just ME", because I loved it. The great part is that I can order my perfume from them when I finish the bottle I have.