A few days ago I've attended BlogOn MSI May Conference, the 3rd conference I've been to. It was held at the Science Museum in Manchester. If you want to have a look at the other two I've been to: BlogOn Conference and BlogOn Conference, September. I had a wonderful time and I already bought my ticket for September. Before BlogOn MSI, I went to Paladone Party, it was fab.
BlogON MSI started with the Introduction and Keynotes – Getting organised.
There were 16 seminars in total, 4 at one time. So I picked the ones I thought would be more interesting for me. I could take notes in these cute notebooks and stationery provided by Dodo-Pad and Snopake. I've started using the Dodo-Pad, it's really nice and fun.
The 1st seminar I've been to was Photo Styling. It was so interesting, I enjoyed it a lot and now I think differently about the props. It was very helpful to learn about new ways to use backgrounds. I blogged about my backgrounds, but I didn't think at props as much as I should have.
At the end of the session, we got the chance to use some props and backgrounds and it was lovely. I'm really happy with the way my picture looked. It was the seminar I was looking for and it was everything I hoped it will be.
This is how committed bloggers are to taking pictures, we do have a passion for all things relating to blogging.
We had lunch and I got to catch up with Rebecca (from becster.com). We have taken some pictures .
After lunch I went to 6 Steps to going PRO. I'm not planning of going PRO, but it was very interesting to attend the seminar. I enjoyed it and I took some notes.
Cake and wine. An amazing kind of break. The huge cake was brought by Swizzels to mark the 60th anniversary of Drumstick lolly. I didn't get to photograph the cake, but I can say it was delicious.
Between the seminars I went to talk with brands. Some of them new, some I worked with before. It's always nice to have a chat face to face with brands. I also tried for the first time Virtual World, but it was too realistic and I was scared of walking on the plank. I'm glad I tried it though and it must be amazing if it's something less scary.
The 3rd seminar I went to was about Instagram. It's the second seminar I go to about Instagram and I needed extra ideas. I learned a thing or two and that's the whole idea of attending the seminars.
Another break for raffle and the last seminar. I wanted to go to Photo Editing. I'm comfortable using Photoshop, as I mentioned in my post about it. I had the chance to chat before the seminar and it was aimed at beginners. So I went to Accounting for bloggers. It was very interesting. I liked learning about the differences between a limited company and self-employed. I enjoyed the seminar.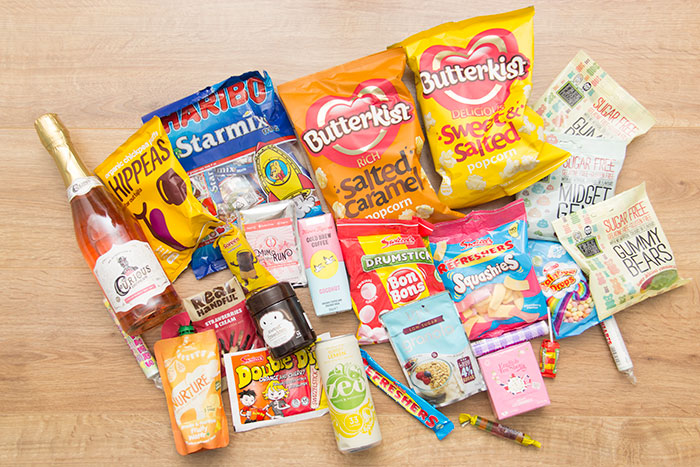 After that we picked out the 3 goodie bags and we headed home. These are some of the things I got in the goodie bags. I will say a few words about them. I had to pick a few as there are a lot. Also, there are things for kids, so it's pointless for me to talk about those.
Sweet Freedom Choc Pot. I've been using sweet freedom products for a while, but this is a new one and I'm excited to try it. It's vegan, made in UK without palm oil and with sugars from fruits. It can't get better than that. It's delicious.
Ravensburger 3D Minions puzzle, it's obviously lots of fun.
Seventh generation detergent, plant-based products made in USA, not tested on animals. I tried it and I like it a lot. It smells clean.
Real handful snacks, I talked about them before. I really love their range, they are delicious.
Swish to go. An oral care powder to use while away. It will be very helpful in our next trip.
Organic cold brew coffee with coconut milk from Minor Figures, made in UK. I never tried cold coffee before, it's very exciting.
Oven pride. I never tried it, but I heard about it.
Stigu notebook with faux leather. I like it a lot, it's a lovely colour and stylish. I can use it for work.
Window wiper greener cleaner, made with recycled materials and wood. I needed one, so it will get used pretty soon.
English Tea Shop organic chamomile. I like a cup of chamomile once in a while, so I can't wait to try it.
ZipIT game from Bananagrams. I love these word games, they are so much fun.
Hippeas organic chickpea puffs, made in UK, vegan with lots of proteins and fibres. It has sunflower oil and only 91 calories per pack. Fab.
Butterkist sweet&salted and salted caramel. I don't think each bag has 4 or 5 servings, but I'm eager to try them. Butterkist is 100+ years old, I had no idea popcorn has such a long history.
Free From Fellows gummy bears and midget gems. As a vegetarian, finding gummy bears is not easy. These are vegan and sugar free.
Pac-Man gadget from Paladone. I think it's funny and I might decorate my laptop with it.
QVS 3 Way Super Shine Buffer. I will try it these days.
Color Pen from Maped. I have a few of those and a new one is great, more to play with.
Lizi's granola, made in UK, no palm oil and with less sugar. I saw it in supermarket, but I didn't try it as I usually make my own mixes when I have granola for breakfast.