I mentioned I've been to Kensington Palace in my post about the Household Cavalry Museum. Queen Victoria was born at Kensington Palace and in front of the palace is a beautiful statue of her, designed by one of her daughters, Princess Louise. I saw this in a documentary about Victoria and I find it fascinating.
Currently, Kensington palace is the official London residence of the Duke and Duchess of Cambridge. In the 17th century, King William and Queen Mary asked Christopher Wren, the architect of St Paul's Cathedral, to turn Nottingham House into a palace.
The Palace looks magnificent. It was quite busy, so it was hard for my husband to take pictures while trying to avoid photographing people as well.

James Edward Stuart, the son of King James II, also known as Bonnie Prince Charlie or The Old Pretender, was born in this bed, at St. James' Palace in 1688.
At Kensington Palace there is a temporary exhibition, Fashion Rules Restyled. On display there are dresses worn by Queen Elizabeth II, Princes Diana and Princes Margaret. The exhibition is opened until 3rd January next year, so plenty of time to have a look if you are in London.
It was amazing to see in person dresses I knew from pictures and some of them you might recognize for sure.
The exhibition is categorized by 5 rules and there is a description to each dress. The rules are:
1. High impact
2. Attention to detail
3. Bold accessories
4. On trend & Diplomatic dressing
5. Block colour
I, and it's just my personal preference, loved how Princess Margaret was dressing. She was bold, but just enough, considering her status. I also loved the Queen's outfits, so distinctive and appropriate and beautiful.

The details on the dresses are stunning.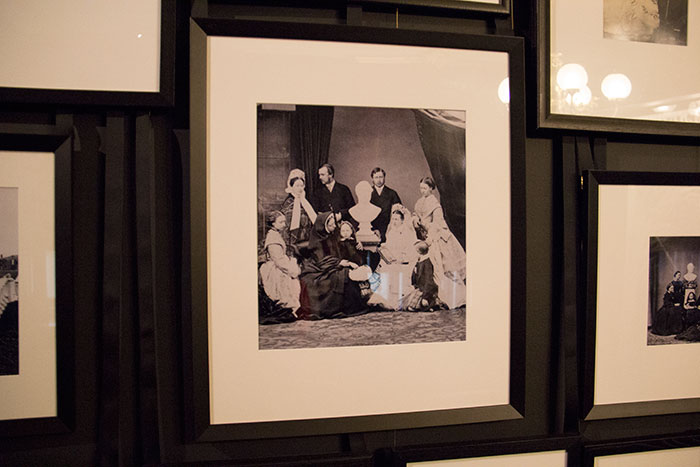 Victoria Revealed is another exhibition with lovely displays. It's really interesting to see her objects and learn more about her. I enjoyed this exhibition.

This dress was ordered by Queen Victoria in 1851 to support the Spitalfields silk industry. The silk industry was featured extensively in the 1851 in the Great Exhibition.

One of Queen Victoria's dresses, as a young woman. She loved colours and flowers, but she is known for her black mourning dresses she chose to wear all her life after Prince Albert's death.

Queen Victoria's black mourning dress. So well known from pictures and paintings. The display looks beautiful, with the fallen leaves representing the passing of a loved one.

A lock of Prince Albert's hair, a precious reminder of him. They had a beautiful love story.
Have you been to Kensington Palace?