KCL – 1st term of year 3 is officially over today. I'm so happy, especially as yesterday I received feedback for my dissertation proposal which gave me a grade in the 1st class bracket. I also uploaded my last assignment and I'm very happy with how it turned out, the topic was so exciting and different, and the teacher was very keen on the topic too. I picked that topic because it was something that interested me. On top of that, I had a presentation, on Ukraine and the Russian genocide and it went great, there were a lot of good questions and it seemed it made an impact, besides going well with my presentation.
Because I'm in the last year I have more time on my own. In addition, I wanted to do a long essay of 10k words instead of a regular module. This means I have very little in person time at the university, but I spend a lot of time researching. For my dissertation I took an intercollegiate module at Queen Mary, so that's interesting too, a slightly different approach, so I am enjoying that.
I spent less time at King's in the first term, but this will change with term two. I have a thematic subject I'm enjoying a lot, which is a 2-hour seminar every other week. Each week the focus changes and the reading varies from medieval to modern-day. It's a fascinating subject and the layout of the module is really great.
My dissertation module is at Queen Mary, I get a lot of support from my supervisor, and it goes really well. I'm very happy with the progress.
As I said, I'm doing basically 2 dissertations, as in 2 papers of 10k words each. Following advice from my teachers I went on a library-signing up spree. I went to the libraries related to the university, not only the standard one. Besides that I signed up to the British Library and it's fantastic. I found really good books there and lots of information for both papers.
British Library is a wonderful place to study too. I spent there hours and it didn't feel as long. There are some cafes to get some refreshments and a break.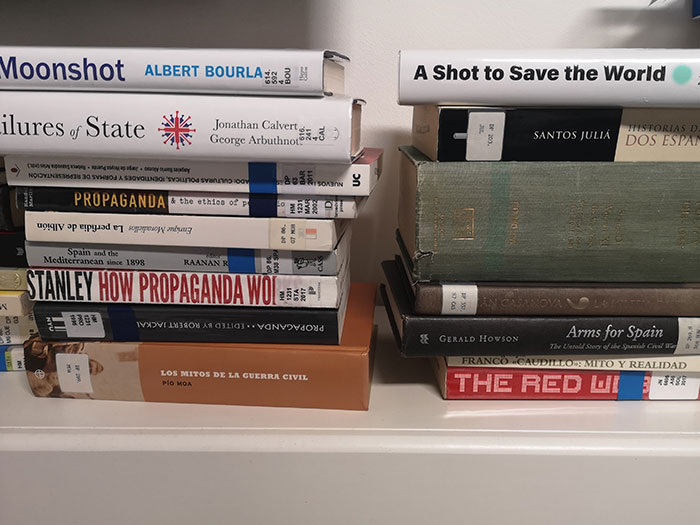 They have a 10-books limit, but because I'm doing my research well I don't need more than that in one sitting.
For my long essay I went to Karl Marx Memorial Library, which is rather close to KCL, about 15-20 minutes walk. It was so exciting to look through the archive and discover the stuff that helps me.
Another library I went is the Welcome Collection, which is a medical library. The feel is very different. This one is close to the British Library, about a 10 minutes walk, so it offers a lot of flexibility.
It's quite an experience to go to these places, from a small library where I need to book to one of the biggest libraries in the country, if not the biggest.
I did a mix of commuting for the day or, more often, to spend from a few days to over a week in London. We've decided against renting a place as I did last year. Instead we are renting studios/flats or getting rooms in hotels when I need to be in London. So far we stayed in St. Albans, in north east and north west London, at a hotel in Westminster, and at an inn near London. It's such a different experience and we are enjoying it a lot. We will do the same in the second term, picking up different locations all over London.
This is how my first term went. It means a lot of work but also exciting research and some pretty great experiences. I am looking forward to the next term.