We were planning to go to another pub, close by, but we stopped for lunch at The Queen's Head Frodsham. It was a lovely day, so we were lucky to have the whole room for us as almost everybody was in the garden. I was delighted to be able to take as many pictures as I wanted without being worried that I will bother others.
The Queen's Head was built in the 17th century and it's a Grade II listed pub. It started as a coaching inn in Frodsham and it would have house 23 horses. The stables can be seen at the rear of the pub, but we didn't go outside, so I missed that. It's a reason to have another lunch at them.
The pub was called The King's Head, changing the name to The Queen's Head when Queen Victoria came to the throne in 1837.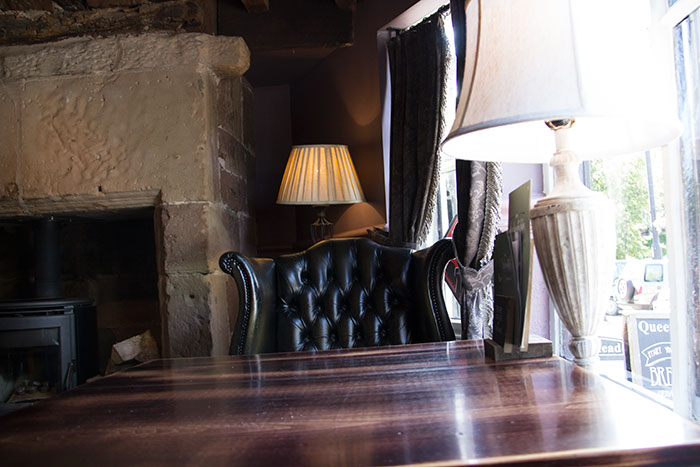 We sat at the table and we picked what we wanted to have. We were near a window, so we had a chat and looked at the dogs passing by. The coffee was huge, exactly as I like it.
We got a veggie burger and a sandwich and we've shared them. We do that most times. It's an easy way to taste two dishes without having to overeat.
The Veggie burger is made with BBQ chipotle quinoa and smoked Cheddar topped with a mango & pineapple salsa. I liked the salsa a lot. It's not something I would normally add to a burger, but I will do that from now on. The sandwich was with Halloumi, tomato and houmous foccacia.
The artisan focaccia bread was filled with grilled halloumi, tomato, houmous and salad leaves. The halloumi was delicious, so well cooked and the sandwich was very good.
The pub is lovely, we had a nice time and the staff was great.
The prices for the food are great, the whole bill was less than £20. The Queen's Head Frodsham is in the centre, there are many beautiful buildings to see. I will make a special post about Frodsham.
The address is: The Queens Head, 92 Main Street, Frodsham, Cheshire, WA6 7AR. It's less than 30 minutes away from Chester.