Last week I've been invited to a Paladone Disney Quiz Night in Manchester. My husband and I managed to get there a bit late, as it happens so often, but just in time for the quiz. We've team up with Codie (from codiekinz.co.uk) and we were ready for the challenge. While we were in the car driving to the event, my husband and I were talking about how little we know about Disney and that we should have watched Disney movies instead of the ones we saw (including 12 years a slave, amazing film, but not very helpful at the time).
These pictures were taken at the end, it's the three of us with our prize. It's huge because we've won the quiz. 😀
Now let's go back to the beginning. Codie had a name for the team: Quizney Princesses, but as hubby was in the team, we said we should add & King as well. Then we had a bit of delicious food and a cocktail.
All food was vegan and very very tasty. I was delighted to be able to eat anything I want (I might have overeaten) and even the non-veggies looked happy with the choices. The event took place at The Zombie Shack, it's a lovely place for food, cocktails and it's also beautifully decorated, in Manchester city centre. I would love to go there again.
The quiz started and I remembered so many things I had no idea I knew, including songs. It was hilarious. My husband did remember a few things too, much to his surprise. It's quite funny to see how many things we know and we don't know we know.
We had multiple rounds with questions, remembering songs or movies, identifying characters, watching a short clip and answering questions from that clip. It was a close race, we were in second place before the final round and…
We won! With a 5 points lead and the only ones with more than 100 points. Not that we were terrible competitive, but Codie and I ran to the screen to take a picture of the result.
After that we went to sort out our prizes and we had so many. These are our items, half of the 1st prize! It's it amazing?! I have a few doubles and I will make a giveaway or two next month with them.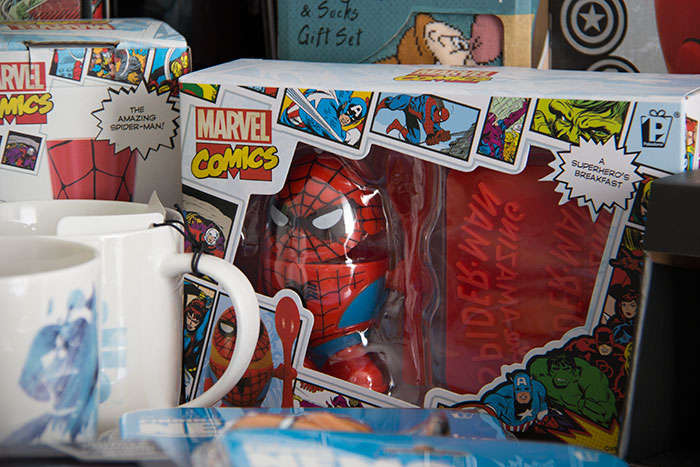 Spiderman Egg Cup with a toast cutter. I like it a lot, it's so funny.
This Marvel Avengers Hulk Shaped Mug is perfect for green tea, don't you think?
I love the Grumpy gift set: mug & socks. I told my husband that he should use it when he is grumpy. In a very grumpy tone he replied that he is never grumpy, so I will use the mug, as the discussion made me grumpy.
Star Wars Rogue One Set Of 8 3D Coasters, my husband loves these ones. I like the 3D effect too. We will definitely use them.
Besides those great prizes, which I'm going to mention on social media these days, we also got goodie bags. A travel mug that I will use. I wanted to get a similar one, so it's exactly what I wanted. I postponed getting a mug because I already have 2 sets of travelling mugs, but this one is ceramic, so different. The Gadget decals are so cute, I like them and the notepad is very cute too.
I liked the Toy Box Mickey Mouse Luminart so much that I asked my husband to put it in the kitchen. It has a retro feel that I like and I think it goes nicely with the white walls and the white furniture.