The Lanercost Priory is an 12th century church that was built with stones from Hadrian's Wall. We got there while we were on our way to the wall. Hadrian's Wall was the main thing we wanted to visit and considering its size, we knew it wasn't possible to see it in a couple of days. So Lanercost Priory wasn't on top of our list of things to see, but we had to stop when we saw how nice it is. I'm glad we've stopped, it's a lovely place.
The priory was founded in 1169 and suffered in the Border wars. Edward I stayed in Lanercost for 5-6 months. As he had the Privy Seal, this meant England was ruled from Lanercost. The Monastic House was closed at the dissolution in the 16th century and a part of the Priory become the parish church. In the 18th century the priory was re-roofed and glazed. The 9th Earl of Carlisle, a philanthropist, commissioned art work for the priory in the 19th century. The church still has services weekly and there are christenings and funerals too.
The Lanercost Priory ruins are managed by English Heritage. The entry fee is free for members and £4.10 for adults. If you plan to visit Hadrian's Wall, I think it's better to join in as member, as there are a lot of things to visit and the entry fee will add up. I've been a member of English Heritage for a couple of years (and 3+ for National Trust) and I think it's worth it.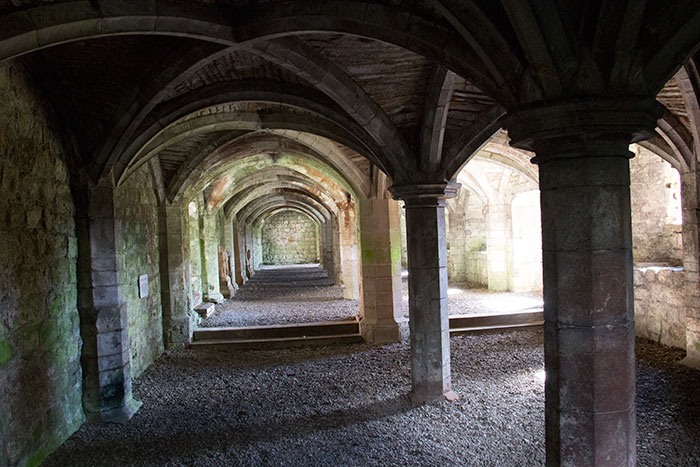 The refectory undercroft, a 13th century room divided in two, one used for storage and the other one was used as a warming room.

These are the night stairs that led to the dormitory on the first floor, this way it was easier for the canons to come to the church for the night time devotions.

This is the Presbytery, where the canons were praying each day. This room occupied one of the four parts of the church. The church was built as a cross. Another section is now the parish church from the beginning of this post. There were wooden benches and a high altar. The roof was made of timber.

The parish church.

The pear tree had fruits in it.
The Dacre Tower. It was converted from the kitchen into a tower by Thomas Dacre in the 1550s. It was 4 storey high, first storey had a big fireplace, on the second storey the ovens were smashed to make windows. The top floors were connected by a spiral staircase that is still visible today.