St. Andrews is an University town north of Edinburgh. It is where Prince William and Kate Middleton met, on campus, while both were studying there. It's also a gorgeous town that worths a visit. We went on the first day we arrived in Scotland, so we didn't had the chance to visit any museums, as they were all closed. By, despite that, we had a lovely time walking around. Amazingly, there still were lots of tourists in the town.
We've spent a couple of hours in the city, walking and seeing the University, the Cathedral, see the pier and the castle. I hope you'll enjoy the pictures.
This is the Blackfriars chapel, what remains of it. The Dominican order arrived in the town in the 1400s and this friary was build in the 1500s. In the 1520s this chapel was added to the friary. 25 books from their library still survive and are now at the St. Andrews University.
I didn't know about Hamish McHamish before visiting St. Andrews. So, imagine my surprise to see the statue of a cat near a church. I looked online and saw that Hamish McHamish was quite a star.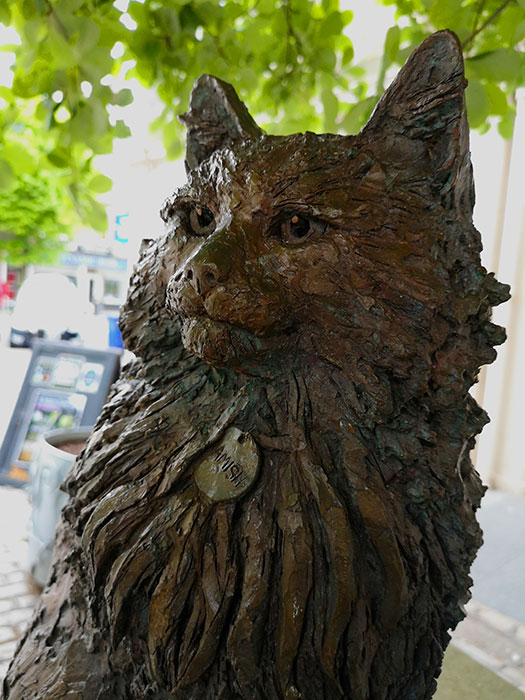 There is even a book about him, entitled Hamish McHamish of St Andrews: Cool Cat About Town.
St. Andrews Cathedral was built in 150 years, being completed in 1318. At that time it was the biggest church in Scotland.
King Robert the Bruce was there at the inauguration of the church.
The castle was built by bishops, starting in the 12th century. St Andrews Castle was the official residence of Scotland's leading bishop (later archbishop) throughout the Middle Ages. The tunnels can be explored today.
During the wars with England in late 13th century – early 14th century, the castle was damaged and rebuild. Thus, the ruins we see today were built between 1400 and 1560.
These are some of the student accommodation buildings of St. Andrews University. Don't they look just amazing?
These are the ruins of St. Mary on the Rock, church built in the 1240s in the shape of a cross, on the site of previous churches. St Mary's Kirkheugh was a collegiate church, as in a church which housed a college of priests. The ruins were discovered in 1860, as the building was destroyed during reformation.
Have you ever visited St. Andrews?