Sanskruti Restaurant is the first vegetarian Indian restaurant to open in Liverpool back in 2016. Three years before that they opened one in Manchester, and again, they were the first vegetarian Indian restaurant there. We booked for dinner, taking advantage, again, of the Eat Out to Help Out scheme. We've had a lovely meal and I will be back. My husband is not keen on Indian food, which is a bit shocking for people living in Britain, but I do like Indian food, as long as it's not too spicy, and so I will "drag" him again.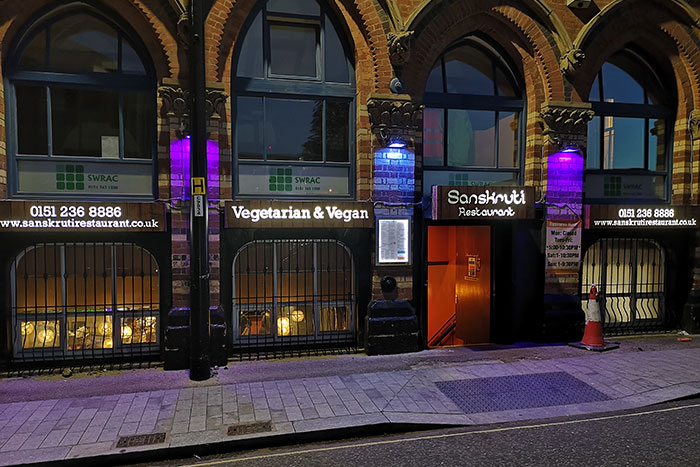 First of all I should mention the staff. They were incredible! So helpful and friendly, the food arrived faster than we've expected and everything was really great. I can't emphasize hard enough how amazing the staff was. Now, let's talk about food. It was all vegan with the exception of the Gulab Jambu, a dessert my husband loves.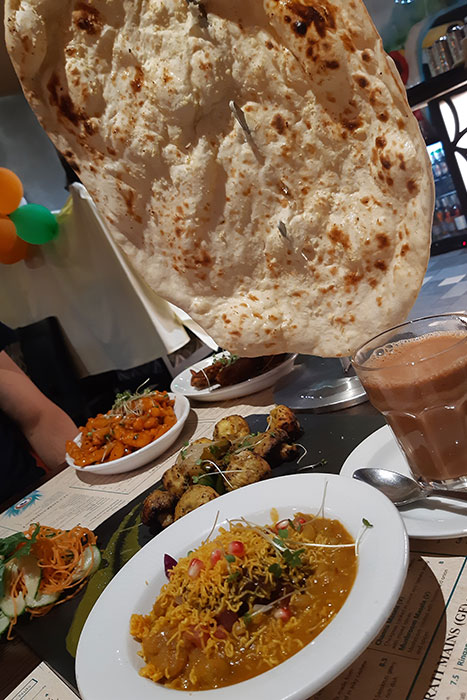 Because we were curious to try different kinds of food, we've ordered a few starters and street food instead of mains. It was a great idea. In the background you'll see some Onions Bhaji, underneath that amazing Naan. I could gladly eat a Naan, on its own, it was so delicious.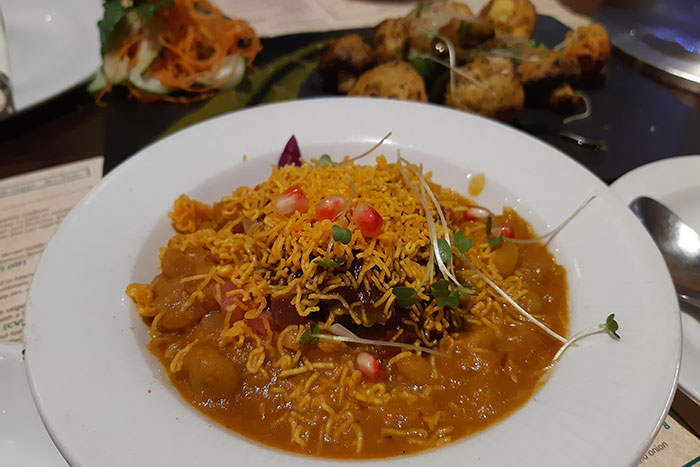 Vegan, mild spicy, Papdi Chaat, which is made with chickpeas, mashed potatoes, chutney, topped with pomegranate seeds. It was just enough spice for my taste.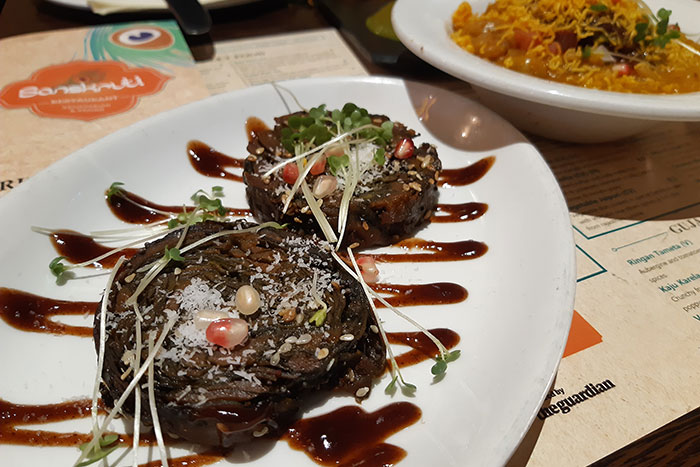 Patra was my favourite dish from all of them. These are steamed colocassia leaf rolls stuffed with gram flour, sesame seeds & spices, garnished with grated coconut. I have no idea what colocassia leaves are. I looked online and the plant looks more ornamental than edible, something that makes me reconsider what houseplants I will buy in the future.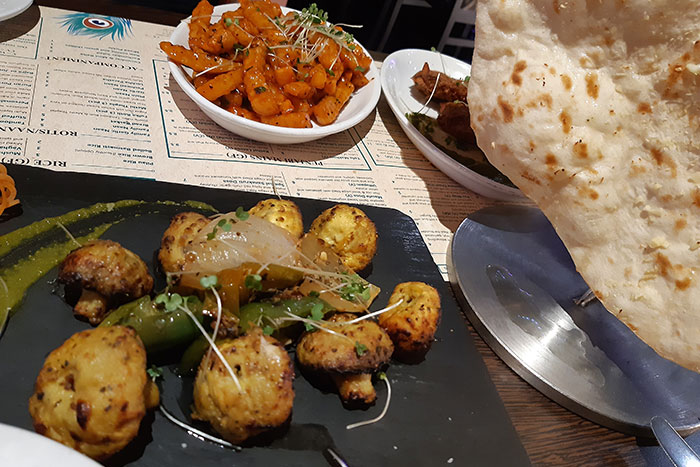 Tandoori Mushroom Amritsari and Masala Chips. Tandoori Mushroom Amritsari were, obviously, mushrooms, marinated in gram flour with herbs, spices, and carom seeds, cooked in tandoor, really good. I loved the sauce too. Masala Chips was another delicious dish, as the sauce made them sticky and yummy.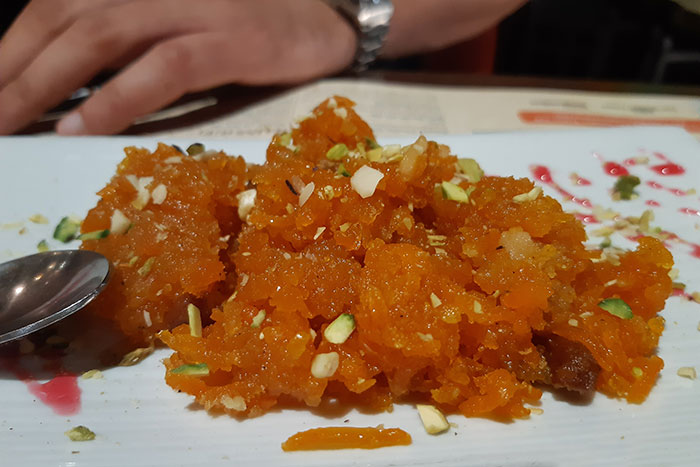 For dessert I picked Gajjar Halwa, the only vegan dessert they had, which is grated carrots cooked with almonds and cashew nuts and cardamom. It was very good. I was a bit surprised because it was warm and I was expecting a cold halwa, similar to the Turkish style. Nevertheless, it was really good.
Last, but not least, Gulab Jambu, described by them, very appropriately, as a "popular Indian" dessert made with sponge balls, soaked in syrup made from milk powder. It was a bit too sweet for me and I'm not keen on syrupy desserts like my husband is, but it was exactly as it should be.
Overall we had a lovely meal out and I can't wait to visit them again. Maybe next time we'll order, again, a few starters and street food, different ones, to experience more of this wonderful Indian cuisine.
Sanskruti Restaurant Manchester is on 95 Mauldeth Road, M14 6SR. Sanskruti Restaurant Liverpool is on Ormond/Bixteth Street Corner, L3 9NA.