Yesterday was my birthday. I had a wonderful time, a great meal and drinks in evening; my husband baked an amazing cake and he gave me a gift I really wanted. During the day, as I love F1, hubby and I went to see Donington Park, an F1 museum a couple of hours from us.

This is only one of the big halls full of F1 cars. As they are describing it, the museum has "the largest showcase of Grand Prix racing cars in the world", obviously a F1 fan's dream.
Donington has a long history in motor racing. It is the first permanent park circuit in Britain. The first motorcycle races took place in 1931 and after two years the track was widen to allow car races. In the WWII it was used as a military depot and it regained its original purpose in the 70s.

This is the map of the circuit. They organize track days, car championships, car and motorcycle festivals and different other events. The museum is opened every day from 10 and the entrance fee is only £10 per person.
The Wheatcroft Military collection at Donington Park
The display starts with World War II vehicles and motorcycles in the first hall. The display cards are very well made with lots of information about the vehicles.

One of the motorcycles was found in mud in the Ardennes Forest. The mud preserved it. Because it was hidden it wasn't restored with new parts or used for spare parts as many others. Another motorcycle has an even more interesting story. It was found on a burial site, with its rider still onboard. The rider's name is unknown.
The Donington Grand Prix Collection at Donington Park
There are over 130 exhibits of cars that illustrate a history of motorsport. There are cars on display that were driven by Senna, Mansell, Prost, Fangio, Stewart, Coulthard, Button, Ralf Schumacher, Montoya.

Ascari drove this beautiful Ferrari 500 in 1952 and he won all the races that year.

Hesketh Racing were in F1 only a few years, on the car they painted a naked lady. As it was censored, clothes and a sign were painted on top. One of their driver was James Hunt, an World Champion with McLaren. Rush is a movie about Hunt and Lauda's battle for title. I couldn't recommend enough that movie, it's amazing.

This car was driven by Senna on 19th July 1983. At that time, he was competing in F3. It was the first time Senna drove an F1 car.

This is Ralf Schumacher's car from 2002. Schumacher won in Malaysia that year, the only win that season.

This is the fuel station. That fuel hose is big, but there are regulations in place regarding the flow of the fuel and when a car can be refueled. F1 cars use petrol, but the teams can use different brands.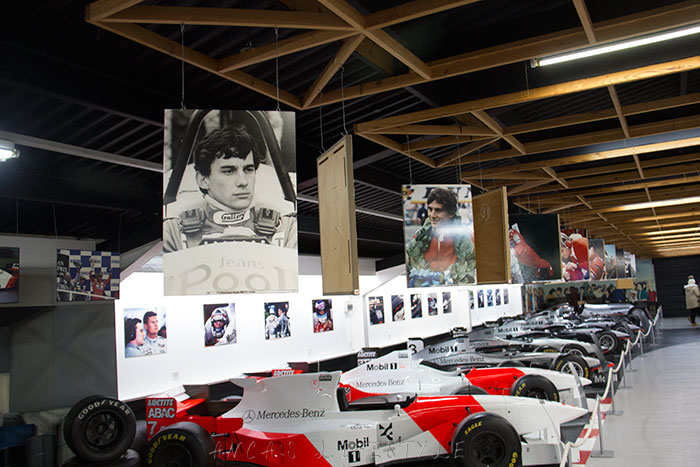 This is the McLaren Hall.

Today is race day in Brazil at Interlagos. I can't wait to see it.