I mentioned a few times so far that we've been in the process of refurbishing our garden and a few rooms in the house. Like many people during lockdown, we took advantage of staying at home to do bits and pieces we've postponed. This meant that for last couple of months I've painted lots! For outside I've used Cuprinol Garden Shades for different purposes and, as I was happy with it, I thought I should share my views on it.
I tried Cuprinol Garden Shades on different materials: plastic, wood (both raw and treated), concrete, glass. The pictures do not always show the exact colour, as I took them with my phone, but that's not the point anyway. Cuprinol Garden Shades comes in a lot of colours, all cute. I bought two: Natural Stone and Willow, and both look great.
Cuprinol Garden Shades is available at many DIY stores, such as B&Q. On the website, the people at Cuprinol say that it is designed for wood. As I mentioned already, I used it on different materials and it works good. I'm not sure how long lasting it will be though. So far I'm happy with it.
In the picture above I show the small fence between us and a neighbour, painted in Willow. I painted only 2 coats and before that it was a dark colour, but it was covered almost perfectly from the first coat. The plastic pots are for "second chance plants", the ones I'm not sure they will make it, but I gave them a second chance. If they survive, I will replant them in a raised bed next year.
You can also see, in the left side of the picture, a concrete post and a wooden post (raw wood), both painted with Natural Stone. It works great. I've painted them twice and the coverage was great, again. It is resistant and so I'm very pleased.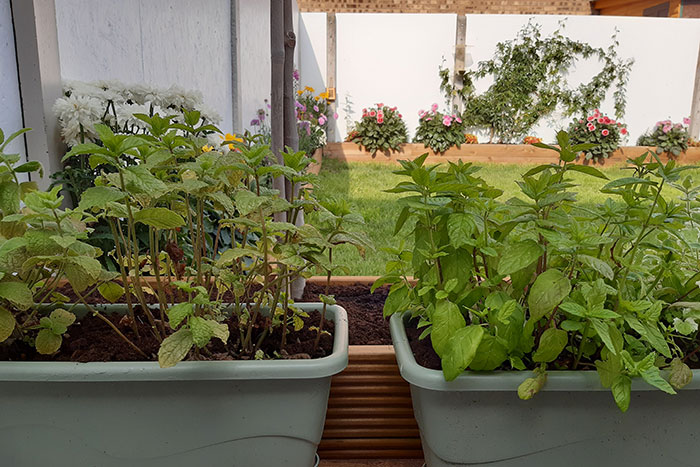 Here is the plastic pots, painted in Willow two months ago.
If you do not remember my post on Upcycled plant pots from June, here is a picture. The mint grew rapidly in their new, bigger pots. In the background you can see the colour of the fences.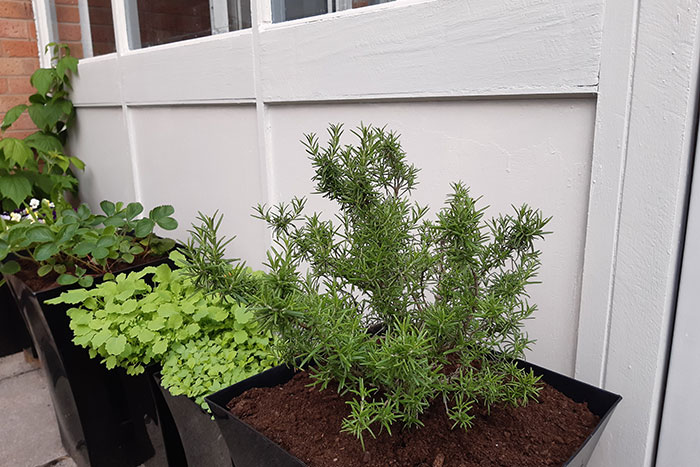 This is the conservatory, painted on the outside with Cuprinol Garden Shades – Natural Stone. We've painted over previous painted wood and glass, as we blocked out some of the windows. I'm happy with the coverage, now I only hope that it will last. This is also a sneak peak of my edible plants, I will talk about them later, when I will share pictures from the garden.
The glass windows are painted three times, but the wood only twice.
Lastly, the planters in the front garden. It is Willow, but it looks lighter due to the bright light. My husband made the planters from decking. It is, amazingly, cheaper than wood, but it has that lovely pattern on them. I have no idea why these are cheaper, but I'm happy because it meant we've spent less on these planters. We have three in the front garden, for some bushes. They look nice and I applied only two coats on these too. The decking is treated wood, of course.
Because Cuprinol Garden Shades is water based the brushes can be cleaned in water. I would suggest keeping the brush/roller in a small plastic bag, tight as closely as possible. They will retain moisture and the same brush can be used again and again without any problems. I've re-used both brushes and rollers for more than a week like that. This not only saves money, but it saves on waste.
Have you used Cuprinol before?