On 8th march, as we do celebrate Women's day, we went for a day trip in Shropshire. It was a lovely day, sunny and warm, so our first stop was Mulberry Alpacas farm. After that we've went to Attingham Park (I'll make another article about the park) and Shrewsbury.
The farm is at 1 hour and 10 minutes from us, but it worth the trip. I have only a few pictures, as hubby was busy walking the alpacas. They are such lovely animals, funny looking, but confident and extremely cute.
The owner of the farm was so helpful and he obviously loves talking about them. He answered our questions and told us a lot of things about them. They are very interesting animals and I'm sure they would be great as pets.
On the farm there is a small shop. One thing that I loved was that they know which alpaca produced the fleece to make the items. The only downside is that for me the British weather is too hot to wear thick knitwear.
They don't dye the yarn and this is another thing that I loved about the products. It can't get more natural than that. The hat I've bought was made from the fleece of 4 alpacas and the owner sent me by email the pictures of 3 of them!!

At Attingham I've had my hat on the entire day. Too hot, but I just love the alpacas.

It was the first time we've been to Shrewsbury, a medieval town. Lovely architecture, but a little too crowded for my taste. Nevertheless, perfect for a day trip. As we arrived late, we hadn't have enough time to visit something, we've strolled in the center and had a pizza and that was it.
As all the important landmarks are in the centre, we've took some pictures. This is the Old Market Hall.

Behind the Old Market Hall is Shrewsbury Museum & Art Gallery at the Music Hall.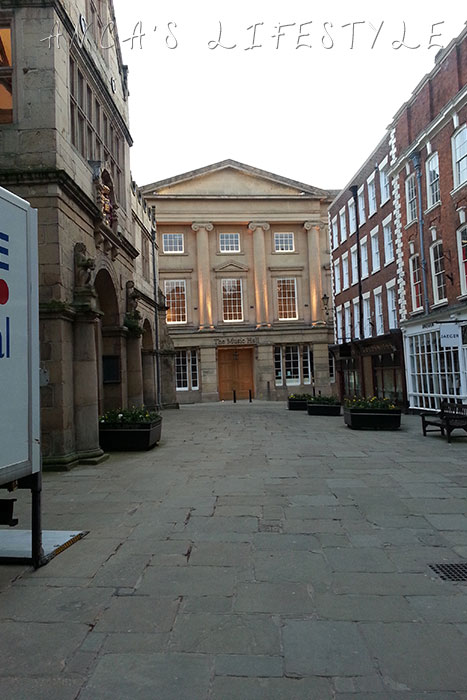 Shrewsbury is the birthplace of Darwin and this is Darwin's Gate.

Rowley's House, another museum situated in the city center.

Quantum Leap is a sculpture near the river Severn. It was made to celebrate 200 years since Darwin's birthday.

Sabrina is one of the two boats that are making trips on Severn.