February was great, I've had some pretty amazing experiences, like the visit to the Guide dog centre, we went to London for a day, I've attended a blogger event with Moonpig for Mother's day, and I had some lovely dates with my husband.
The university course was very demanding this month, as I've started a period I can't say I knew loads about, unlike the Tudor period that I studied earlier. It was very interesting to learn about it, even though it was daunting. Anyway, I will have a month free, and I will be able to read more in this time.
A couple of days ago I went to Lowry to see the art exhibition and, on my way there, I noticed that the authorities in Salford have the right priorities when it comes to taking care of their, otherwise, lovely city. The birds are doing, for them anyway, more damage to the beauty of Salford Quays than the amount of wood and plastic in the water. I'm a bit puzzled by this, if I'm honest. Also, they take very seriously parking, as I saw, in 10 minutes it took me to get to the Lowry, 3 traffic wardens. If only they would have spent a bit less on wardens and more on cleaning staff.
We went to Cat cafe in Liverpool this month. This little one was so cute, she let us pet her, but became sleepy, and arranged herself in a better sleeping position. It was lovely to look at her while we had our drinks.
Festus had a lovely time at Wightwick Manor this month.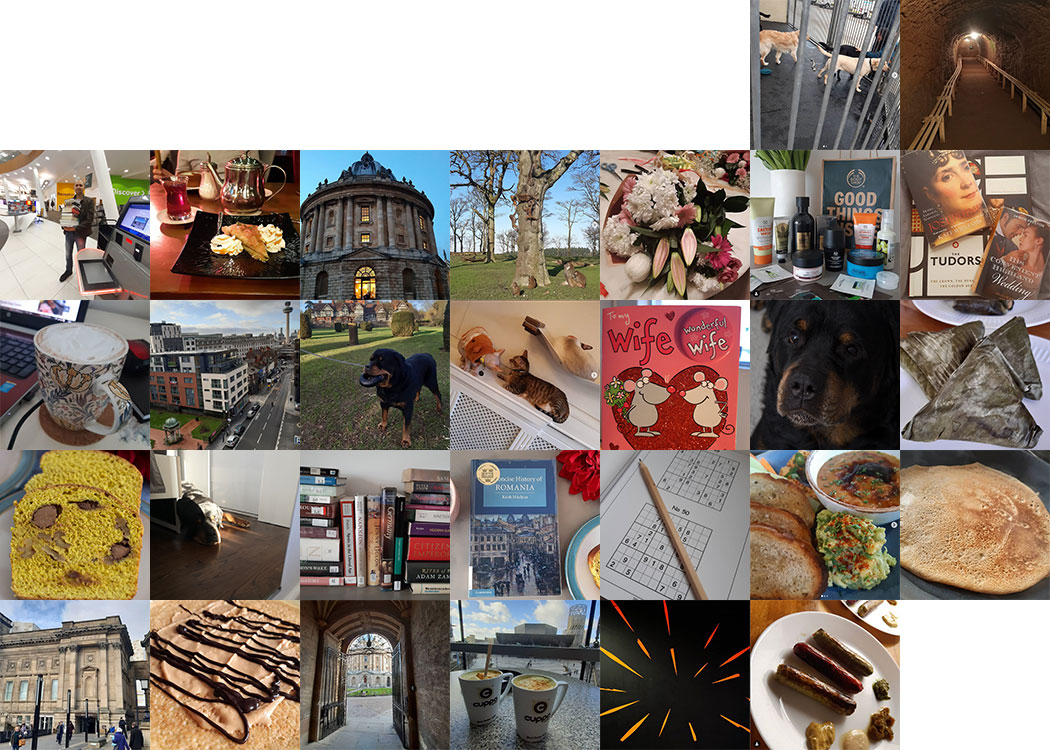 1. Visit to Guide dogs centre. 2. Stockport Air Raid Shelters. 3. My husband helps carry a "few" books for me. 4. Celebration. 5. Oxford. 6. Knowsley safari park. 7. Flower bouquet made by me at the Moonpig event. 8. What I bought and gifts from the VIP event at The Body Shop. 9. I finished 3 books that day (2 of them started a few days before). 10. Hot chocolate with vegan whipped cream on top. 11. Liverpool. 12. Festus having a great time. 13. Cat cafe. 14. Card for Valentine's Day. 15. Festus. 16. Tried a new food and it was not great. (can't remember the name). 17. Baked a Turmeric loaf. 18. Festus, avoiding the sun as much as he can, so he could have a proper snooze. 19. Studying and seminar. 20. I'm enjoying the book about Romania. 21. Sudoku, something I love playing for a few minutes each day. 22. Delicious food at Come Together, Liverpool. 23. Rehearsal for Pancake Day. 24. Liverpool Central Library. 25. Pancake day. 26. Oxford. 27. Turmeric latte, after a visit to the Lowry, in Manchester. 28. Kick air, Manchester, a trampoline park. 29. Delicious vegan sausages from Heck.
In February I read 12 books, again, 4 fiction and 8 non-fiction. In the picture, the last book (bottom right) is actually a book I didn't read, but it is more important than the one I read, so I've included that one in the round-up. You can see the reviews for all of them on Coffee and Books, some will be published next month. Also, I have a giveaway for Story of Israel, a book I liked a lot, so make sure you enter (if you are from UK).
The fiction books this month were a mystery one, from the Tudor period, written by Ian Mortimer, under his pen-name James Forrester, which was interesting, and three romance books from a series. I liked the mystery book and there are two more books in that series. I plan to read those. As for the romance books, I was hoping that I will discover new authors by reading a series of 4 books in which every one is written by another author. While the first two were not exactly what I was looking for, the last one was and I borrowed three more books by Nicole Locke from the library, to read next month.
Now, let's get to the non-fiction books. Surely you're joking, Mr Feynman! By Richard Feynman is the book I did not read, but I was told all the highlights from the book from my husband, who read it. It sounded really interesting and I would have read it, if I wouldn't have pestered my husband to tell me lots of details from it.
I read 5 books for University, which might not sound like a lot, but I don't read all books cover to cover, as not all are relevant in the essays I'm doing, and there are lots of books to go through.  From these, the one about the Tudors was sent by the publishing house for review, and I loved it. It is a great book for someone wanting to know more about the period, and it has gorgeous picture of relevant paintings. Besides these, I read a book about the problems we face today, in the 21st century.
Books I read in February:
Sacred treason by James Forrester – 5 stars
Our final century by Martin J. Rees – 5 stars
Josephine by Kate Williams – 4 stars
The Tudors by Siobhan Clarke, Linda Collins – 5 stars
His Convenient Highland Wedding by Janice Preston – 4.5 stars
The Revolutions in Europe by Robert Evans and Hartmut Pogge von Strandmann – 4 stars
Unlaced by the Highland Duke by Lara Temple – 2 stars
Secrets of a Highland Warrior by Nicole Locke – 5 stars
Story of Israel by Martin Gilbert – 5 stars
Europe Under Napoleon by Michael Broers – 5 stars
Concise History of Romania by Keith Hitchins – 5 stars
The Royal Pavilion by Jessica Rutherford – 5 stars