I consider myself a romantic, but I'm definitely not the Paris&red roses&diner-at-a-restaurant type.
I rather have a special diner at home, just the two of us, no fuss, no other people around us. For me the flowers my husband gave me at our first date, 11+ years ago, are more romantic. Or the flowers we had at our wedding. Neither of them were roses.
As for romantic places, I love Gretna Green. All those historic novels with elopements to Gretna Green and secret marriages made this small Scottish village one of the most romantic places in the world, at least for me.
So this was our destination for the anniversary.
We've arrived at Gretna relatively quickly, in 2 hours and a half.
We've started with the Courtship maze. It has 2 entrances and it's in the shape of 2 wedding rings, connected by a bridge.
There are a few places where the couples can see each other. It's a lovely idea.
Hubby said this is dedicated for men… and I have to agree with him in this matter.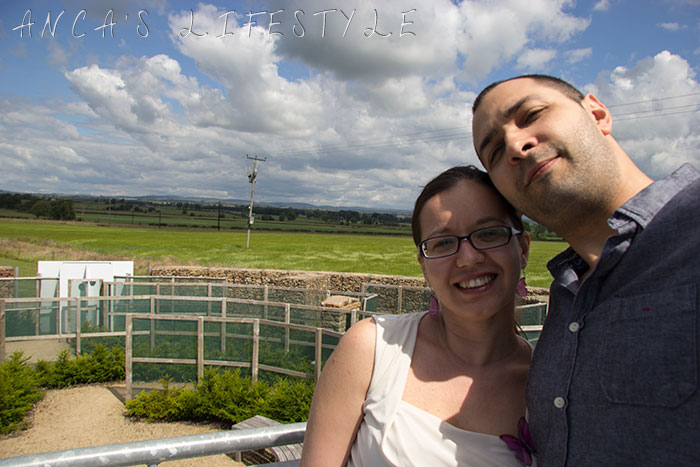 After completing the maze, we went to the famous Blacksmith shop.
At the smithy we were lucky to see everything and get our picture taken before the weddings. There were 3 weddings while we were there.
There is a Coach Museum where is the smithy. Nice display, it was great to see the coaches that I usually read about.
Outside the Blacksmith shop there was a piper playing. It was so nice to seat in the tea room, enjoy a slice of chocolate cake and listen to the piper.
As a memento of the day, we've taken a small anvil.
In the courtyard there are shops with interesting items, many of them with Scottish themes, a lot of highland cattle cards, stuffed toys, slippers and so on. Of course, there is whiskey and tartan bags.
We've also seen a bird nest on top of the walkway, very cute.