My husband and I went to West Yorkshire a few days ago and we've ended up visiting East Riddlesden Hall. It's a 17th century manor house in Keighley. The hall was built in 1642 and it had 4 storey. I was surprised to hear that, 4 storey for that time it's quite impressive.
The house had additions built, like any other old house. It has a walled garden and before the first world war, it was likely to sold to America, dismantled brick by brick and shipped over to the US where they would have reassemble it. The trustees plan wasn't successful. A part of the land was sold. In 1933 the house was sold and the new owner wanted to dismantle the hall. Two local brothers succeeded in buying the property and they donated the hall to the National Trust in 1934. There are a little bit more details about this on East Riddlesden Hall.

There is a lovely story that explains the saying "burning the candle at both ends". It wasn't a real candle, but some ropes dipped in animal fat that smelled bad and it was only used for kids and servants.

This is the cabinet described in Emily Brontë's Wuthering Heights. She saw it when she was visiting the family to borrow books or play instruments. The cabinet is quite unique and while there isn't an official record, it's unlikely she would have seen a similar one somewhere else.
I was so exciting to hear about it. I've read the book, as it's a classic and I had it in my library in Romania.
The walled garden is lovely, there are lots of flowers and there is a hidden play area for kids. It must be quite magical for them. A 5-year old me would have been delighted to prepare some mud pies there.
The ducks are so cute and very friendly. A bag of duck food is only 50p and I managed to restrain myself and I bought only 2 bags, as there weren't many left.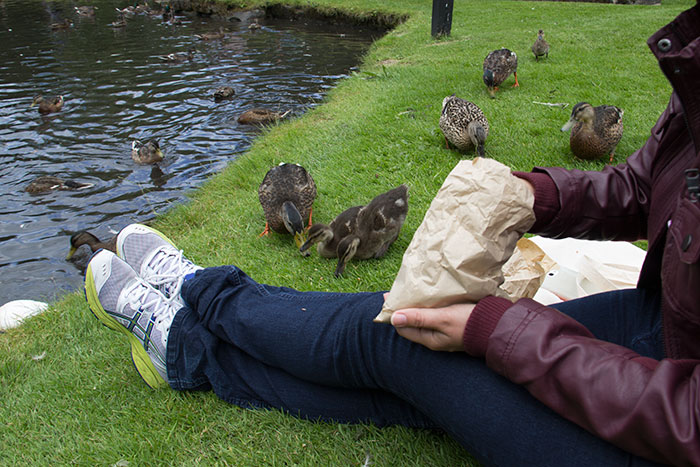 I mentioned they are friendly.
Have you visited the Hall? Do you like going to see National Trust properties?