A few days ago I was invited to Volair SPA, along with other bloggers. It was exciting, as I knew I'm going to try the Thermal Spa.
After we arrived, I had the chance to catch up with Sarah, Codie and Jenny. We were split into 2 smaller groups for the SPA and treatments.
I was in group 2 with Jane, Liz, and Angela.
We went to the Thermal SPA where we saw the sugar scrubs that are available at the SPA.

They all smell great.

I decided to try the grapefruit one and I loved it. After scrubbing, we took a short shower to wash off the scrub and we got into the Jacuzzi.
The Jacuzzi was great, I really enjoyed it. We could go in and out the Alpine Herbal Sauna and Salt Crystal Steam Room, as both were just beside the Jacuzzi. It was really nice and we didn't even realize how time flew.

We went back to the treatment rooms for refreshments and included bubbly. After that we had a talk about cleansing and the products they use for the treatments.

The products seem really good and they smell beautiful. I liked them.
At the end we heard about Crystal Clear Micro-dermabrasion. Jane had the treatment and her skin looked amazing. I was really impressed with the results and it's a treatment I will definitely book in the future.
Volair SPA is really nice and the prices are amazing. The Thermal SPA is only £9.50 per person or £15 for two, for 2 hours. The treatment I looked at, the Crystal Clear Micro-dermabrasion is £35.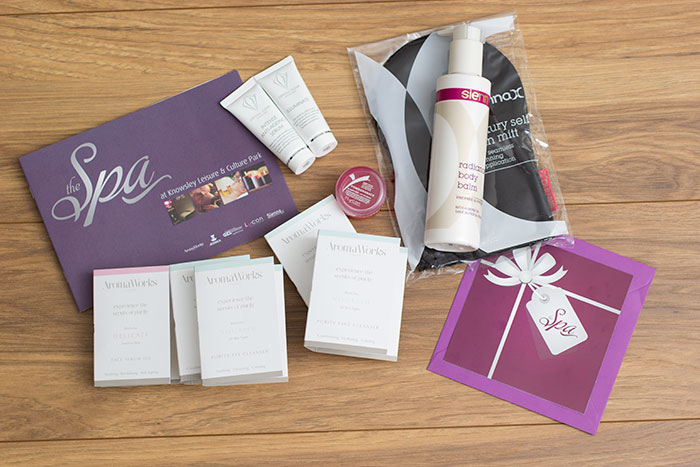 We also received these fab goodie bags. I can't wait to try all the samples of Aromaworks and Crystal Clear. Sienna X body balm is made in England with almond oil and shea butter, it must be great.
Do you like going to the SPA? If you want to try Volair Spa, it is at Knowsley Leisure & Culture Park, Longview Drive, Huyton, Merseyside, L36 6EG.
I was invited to Volair SPA, all opinions are my own. Prices for treatments might vary, they are correct at the time when the post was published.