My favourite pieces of jewellery. I thought at this post for a while. Jewellery and accessories are an important part of my style. It's also an important part of my life, as many of the pieces I wear have a deeper meaning for me.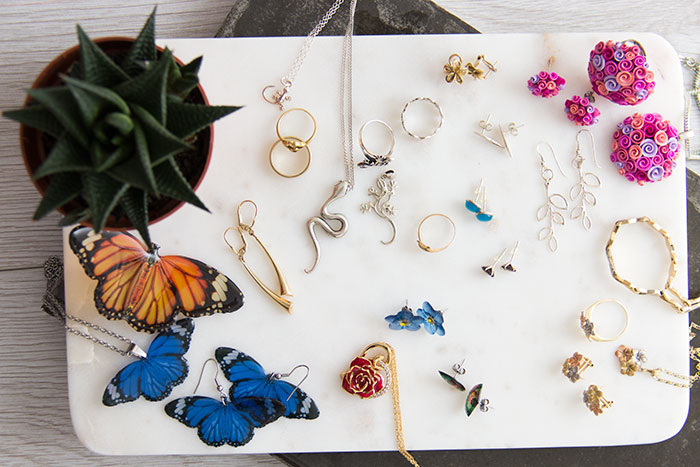 I've decided to talk about all kind of jewellery, gold, silver, and fashion jewellery. I knew I love nature inspired jewellery, but now, looking at this picture I realize how much I do love it. Over half of the jewellery I have is flowers or animals. In the post I'm going to talk about a few more pieces, that are not here in this photograph.
Wedding ring with the engagement ring and a pair of gold earrings my husband got for me for our wedding. The engagement ring is not the traditional one-stone-in-the-middle kind. But we are not traditional. I love the three hearts and the small black stone. The third heart signified the pet we had back then, a cat that now lives with my mother (long story). Now it can easily signify Festus, our dog. We always considered our pets as part of our family and having them represented in our engagement ring is well, meaningful for us.
We bought the earrings together and I love them.
These gold earrings have a fun story. I told my mother that I need a pair of gold earrings for work and she said she never heard about something like that before. Well, I had a managerial job that involved business meetings, fun big earrings weren't exactly suitable for this.
These beautiful pieces of jewellery are made in UK, entirely by hand, by Acdria. The butterflies are man-made and cruelty free. I do love wearing them. The small fan studs are one of my favourite ever. They are small and cute, something I can wear every day. The big brooch is fab, I have another one that I've attached once to my hair band, see here.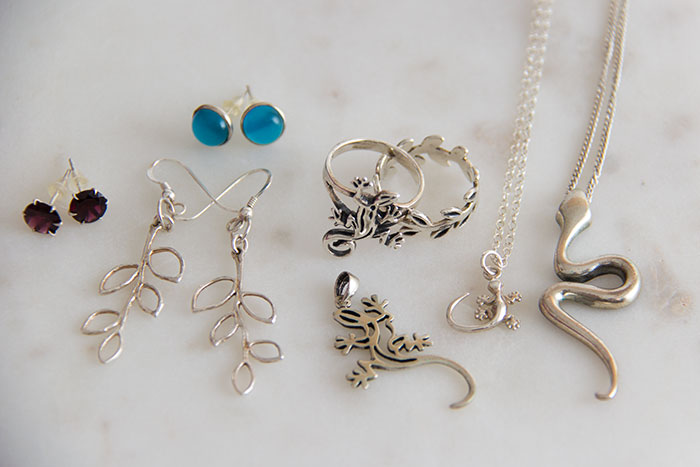 Silver jewellery, some bought by me, some as a present from my husband. He got the geckos for me, I love them. The small one is very dainty. As you can see, besides the studs, all the rest are nature-related. I also have a couple of silver branches that I love wearing.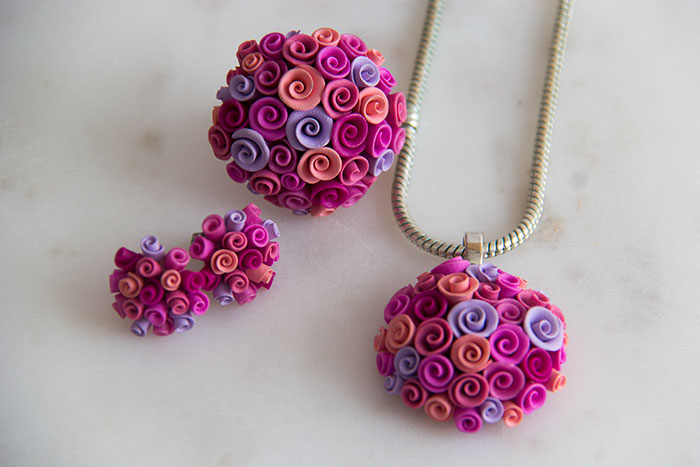 Handmade flowers, made by a romanian artist. I love her work and I think you've seen these before many times. The ring is big, but I like wearing it (review of a restaurant, two years ago). I can't wait for a warmer weather so I can wear them again. The jewellery is made of polymer clay, each rose by hand. There are plenty of similar items can be found on etsy.
This beautiful bracelet is from my grandmother. She bought it many years ago, when I was a teenager, on her holiday in Greece.
Feather studs and a lovely real rose gold plated necklace. Both items were blog collaborations, the ChloBo studs with Metquarter and the rose necklace is from The Eternity Rose.
This is Festus, our dog. I love this pendant of him and I do wear it quite often. He is so sweet.
Flower set that I bought many years ago.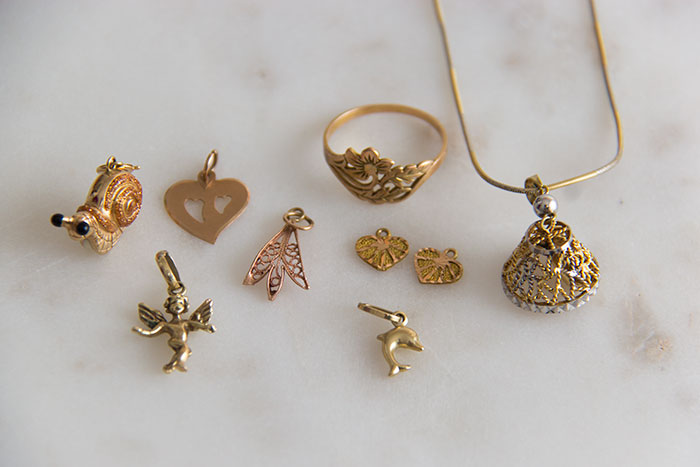 Gold charms that my husband got for me, and a beautiful gold ring with lovely details. Most of these charms were gotten for Martisor. It's a Romanian tradition. On 1st of March men give women small charms with an white and red ribbon, to mark the begging of Spring. It's a lovely tradition. I used to have so many charms. My husband, following a tradition that my grandfather started, switched from fun cheap charms to gold ones that I would keep and wear after that. The tradition also states that men should offer a small bunch of flowers, usually snowdrops.
It's nice to see florists selling hundreds of these bunches of flowers, alongside charms, many handmade, in street markets around this time of year. It's beautiful.
This is another martisor from my husband, a gorgeous necklace from Butler and Wilson. Butler and Wilson is a company with a long history, started in 1969.
These are my favourite pieces of jewellery.