My post on Padua was due to be published yesterday, but I was so busy I didn't have time to resize the pictures. I wanted to see Padua because its connections to Galileo Galilei. Conveniently for us it was on the road from Venice to Imola, so perfect for a short visit of a few hours between these two places we've stayed at. I will share a few pictures from Padua, with the university, and highlights from the Science Museum.
We got there on a Sunday, so it was a bit quieter and a few places were closed. This is the medieval Torre Carrarese, the only part that remains from the Palazzo Papafava. Now it is a part of Padua university, as it was ceded in perpetual lease.
Town Hall, built in the 16th century, is close to the university and in the city centre.
Padua university marked its 800th anniversary this year. It's the 2nd oldest in Italy, after Bologna, which is the oldest university.
The ceiling and all the decorations are stunning. The university can be visited with a guided tour, but the only places available were for tours in Italian, so we skipped that as we were not sure we will understand everything.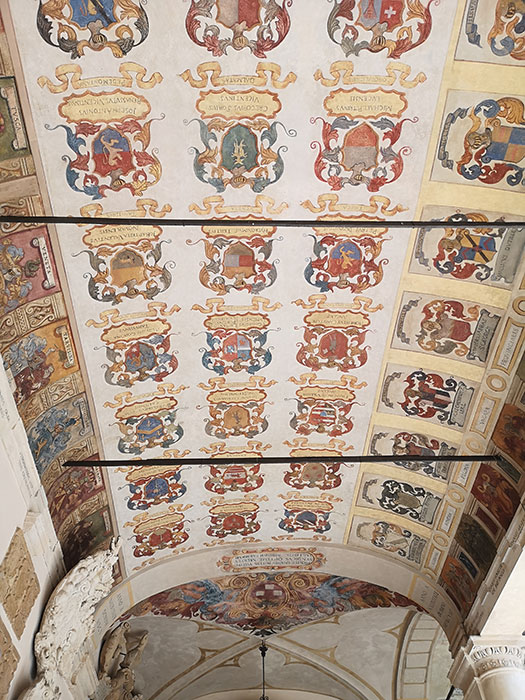 We walked around until we got to the Science Museum, which is amazing and well worth visiting.

Books from 1547, printed in Venice.

This is a reproduction of the telescope Galileo Galilei used around 1610, while he was in Padua. It was made with wood and leather. It could magnify the images by 21 times.

Axial macro-section of the encephalon, 21st century.

19th century specimen of a foot from the third leg distal, with innervation.
I love these old specimens, so well preserved and such a tribute to science that they even exist.
Cute skeleton for selfies, something that all science museums should have. In this room I overheard a mother explaining her son about skeletons and bones, it was heart-warming.
Another boy asked his father, after probably hearing about the iron lung, if the people placed in it were dead. For the little boy this looked like something of torture instead of life giving. I loved seeing parents so patient and engaged with their children, explaining as best they could, considering the age of the children.
This is the skull of Santorio Santorio, from 1636. He was a physician and physiologist who studied at the University of Padua, graduating in 1582. He became a professor in 1611. After his death, the university kept his skull and is now on display in the museum.
I enjoyed my visit to Padua, it's a lovely city and it has many more things on offer for visitors.