Inchmahome Priory is a must see if you are near Stirling. It's a lovely ruin of an old priory, but what makes it very special is the fact that is surrounded by a lake. There are boats that bring tourists to the priory and the fee for this is included in the price for visiting the priory. It's so worth visiting it.
I have to admit that the main reason for me wanting to visit the priory was its secluded location. The Inchmahome Priory was established by Augustinian canons in 1238. Its location meant that the island acted as a sanctuary for royal visitors. King Robert the Bruce came here three times and Mary Queen of Scots visited once, in 1547, aged four, and stayed for three weeks.
As I mentioned, the priory is on one of the islands in Lake of Menteith.
It can be a lovely adventure if you are enjoying boat trips. I got seasickness quite fast. So, I've wondered why I wanted to visit the priory in the first place, before wondering if I can swim back instead of taking the boat (not an option, too cold and way too far).
Back on dry land, I was happy to walk around the island. Besides the lovely ruins, visitors can have a picnic and also go on a circular trail that surrounds the shores of the island.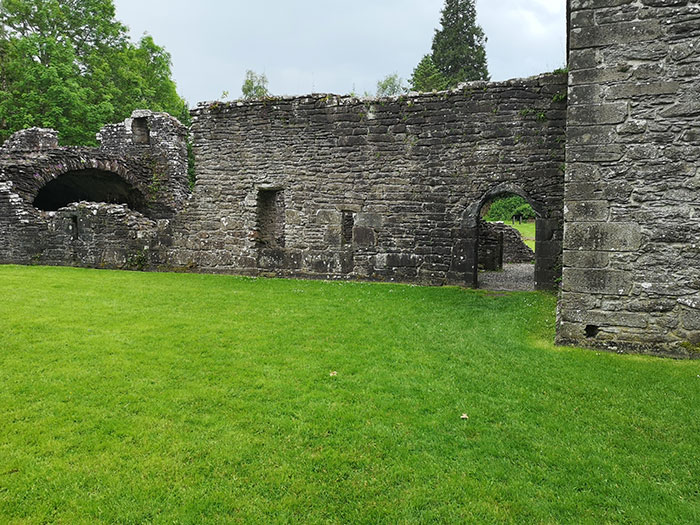 This tomb is quite unique. It shows Walter Stewart and his wife Mary in an embrace. He died in 1295, a few years after her. This is both wonderful and sad at the same time.
If you are lucky, you might be able to spot some otters. We didn't see any though.
We were now ready to go back, after I've had a drink and bought a book about Mary Queen of Scots, from the small but lovely gift shop that is on the island.
How gorgeous is the lake? I've loved watching it, despite not being keen on the boat trip.
The swan was paddling along the shore when we got back.
Inchmahome Priory is at Boatshed, Port of Menteith, By Kippen, Stirling, FK8 3RA. There is small car park that is free of charge. Members of Historic Environment Scotland visit free of charge, for members of English Heritage the entrance is free or with a discount, depending on how long you've been a member. The rest are paying £9 for adults and the children ticket is £5.40.