If you've followed my blog for a while, you know that I love the Body Shop products and this year I bought the Dream Big Advent Calendar, well its full name is Dream Big This Christmas Ultimate Advent Calendar, but that seems like a very long title. I wanted to buy it and then I changed my mind and, in the end I bought it. It's £99 and the contents worth £248.50, so a great value for money. I haven't opened it yet, as I'm keeping it for the advent, as well as doing my home made calendar, as we do every year, see here how and why I'm making it.
I bought the Dream Big Advent Calendar last month, way to early for anything Christmas related, but, after receiving an email that they have this new advent calendar, they sold out the first batch in less than two weeks. So, when it got back in stock, I've ordered it immediately. It's not the only thing Christmas themed set I got from them, as I bought a Rich Plum set that I love.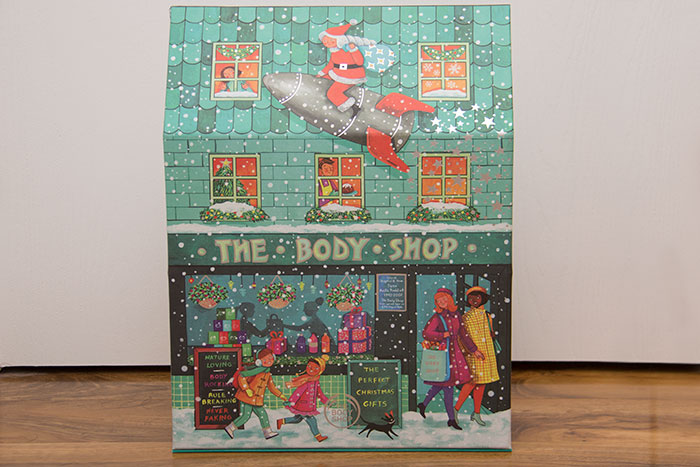 So, what's inside? I copied the list from their website, but I put all the products in categories, so it's easier to see. To my husband's surprise, I don't have all of them in my cupboards already. As a fact, I haven't tried most of them! Even if, in my post published last month, How Many Cosmetics Do I Need, more than half were from The Body Shop. I just love their products, and even more, I love the brand.
When they were owned by L'Oreal I haven't bought anything from them. After they were bought by Natura, I got some PR samples and tried their products and now I'm mostly buying their cosmetics because I'm so pleased with them. Recently they got a new certification and now they are a B Corp. That means "a business that meets the highest verified standards of social and environmental performance, transparency and accountability". I couldn't be happier to support a company like this one with my hard-earned money.
Dream Big Advent Calendar – What's inside
Face
Oils of Life Intensely Revitalising Cream 50ml
Drops of Youth Youth Concentrate 30ml
Carrot Moisture Cream 50ml
Aloe Calm Sheet Mask 18ml
Drops of Youth Youth Concentrate Sheet Mask 21ml
Himalayan Charcoal Purifying Glow Mask 75ml
Makeup
Camomile Gentle Eye Make-Up Remover 250ml
2 x Shine Lip Liquid Lipstick: Apply Taffy & Cherry Gum
Rose Dewy Face Mist 60ml
Eyeshadow Brush
Perfume
White Musk Flora Eau de Toilette 30ml
Body
Special edition Juicy Pear Body Butter 50ml
Shea Body Butter 200ml
Spa of the World Japanese Camellia Body Cream 50ml
British Rose Body Yogurt 250ml
Hand cream
Coconut Hand Cream 30ml
Moringa Hand Cream 100ml
British Rose Hand Cream 100ml
Shower & Bath
Special edition Warm Vanilla Shower Gel 60ml
Coconut Exfoliating Cream Body Scrub 50ml
British Rose Shower Gel 250ml
Hair
Banana Truly Nourishing Hair Mask 240ml
Strawberry Clearly Glossing Conditioner 250ml
Reindeer Headband
Dream Big Advent Calendar – Is is worth it?
For me the answer is very simple: YES! I'm going to use all of the products in the calendar. There are two cheaper option for calendars, but I was keen on the products that are in this one. I love that there are so many different kind of products. I'm not very keen on body products and there are four in the calendar, but I will use them all next year. When it comes to hair products, I'm using the strawberry shampoo, so trying the strawberry conditioner sounds really nice.
I haven't tried a sheet mask, is not something I would normally buy, so I'm very excited to try one from the advent calendar. It's the kind of thing that makes the whole experience exciting, trying something new.
Another thing I've considered is if it is too wasteful. I think is not. I will use the empty boxes to make a Christmas village, before recycling the paper packaging, after Christmas. The rest of the packaging can be recycled, with a couple of exceptions. If you check on their website, they have social projects in India for plastic collectors, women in need of help. That plastic is used for making new packaging (partly, as fresh plastic is also needed so it can be recycled afterwards). The Body Shop has their own recycling scheme and you can get vouchers for bringing back empty bottles or you can put them in the recycling bin.
Do you buy advent calendars? Have you ever had the Body Shop one or are you planning to get it this year?