This must be one of the most strangest months I've ever written about, starting with the Challenges of Government Conference, going on an amazing holiday visiting the Royal Pavilion, having a few cocktails at a cocktail masterclass, feeding crocodiles, and a farmer experience! It can't get more random than that, can it?
On the 1st I was at a conference organized by the Blavatnik School of Government. It was the second day at the conference and I was feeling great. Before going to the conference I was a bit scared because I knew it would involve meeting other students, but also a few professors from Oxford, and policy makers from abroad and local. I got the chance of meeting an MP (not from UK) and talking to a few government advisors from Europe and Asia. It was such an amazing experience, I would love to attend again next year.
In the picture above is Chuka Umunna, MP for Streatham, originally for Labour, but he moved to Lib Dem.
How funny is Festus in this selfie? I just love it. It makes one think he actually took the picture and he is a bit posing for it.
These are Chimney cakes or Kurtos Kolac, a Hungarian cake I used to have as a child. It is delicious and these guys thought of making it even better, by filling it with different flavours, such as mince pies and apple crumble. I loved loved loved it. We had these at a Foodie Market where we also got some pretty delicious vegan food, and a special gin for Christmas.
Finally on my list is the farmer experience. My husband and the farmer had a laugh at my expense as my farming skills are minimal, to say at least. Luckily I had my wellies and any faux-pass was not as bad. It was the first time I used a fork and I was impressed with how good it is.
My favourite part was to engage with the animals. This huge bull was so friendly and cute. I think I could have spent an hour or two scratching him and I imagine he would have been very pleased with this idea too.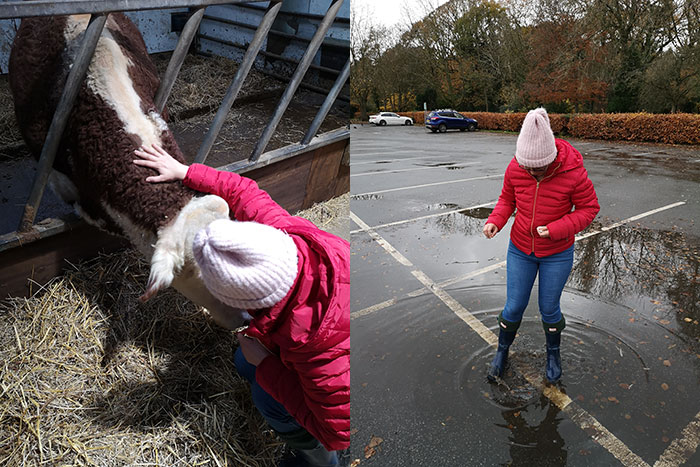 It was a lovely thing to do, especially as I've been vegetarian for such a long time. Now I'm almost dairy-free too, so I could enjoy the animals without feeling guilty.
1. Challenges of Government Conference. 2. Back home. 3. Fireworks. 4. Loose veggies from a local shop. 5. Adding Brighton Palace Pier on the list of places to visit. 6. Thinking of the place I would have lunch the following day: Happy Maki. 7. Michelham Priory. 8. The Royal Pavilion. 9. Anne of Cleves House Museum. 10. I couldn't miss the chance of visiting the place where the Battle of Hastings took place in 1066. 11. Back in Oxford, for a lecture. 12. Pitt Rivers Museum. 13. Enjoying some delicious desserts at Nosebag. 14. Crocodile feeding at the Crocodiles of the World. 15. Pizza at Pizza Express. 16. Enjoying a filled Kurtos Kolac at Foodie Festival. 17. Cocktails. 18. Couscous. 19. Taking advantage of my student discount at Cafe Rouge. 20. Staying as a student in a student accommodation for the first time. 21. On my way home from Oxford. 22. Ice Cavern, Manchester. 23. Farmer experience. 24. Starting a new book, Sovereign by C. J. Sansom. 25. I'm happy with my new nail polish. 26. Preparing for an essay. 27. I started reading John Bishop's book. 28. Spotted a cute cake at the Cake Shop in Oxford's covered market. 29. Knowsley Safari Park. 30. Macaroons (props for photos which I can enjoy afterwards).
In November I finished 10 books, but I didn't get the chance of taking a picture of Dark Fire and so I didn't include it in the collage of books. It shows that I'm travelling a lot by train, as I can read more than usual. I shared a few reviews, but there are a few left to review on my book blog: Coffee and Books. Besides the history books and historical fiction, I read Nine pints, a book about blood. It was fascinating and I highly recommend it.
Books I've read in November:
A Very Special Christmas by Mary Balogh – 2.5 stars
Nine Pints by Rose George – 5 stars
The Mid-Tudor Crisis by David Loades – 5 stars
Mary Tudor by Judith Richards – 5 stars
Dissolution by C. J. Sansom – 5 stars
Elizabeth I by Christopher Haigh – 5 stars
A midsummer knight's kiss by Elisabeth Hobbes – 5 stars
Elizabeth I by Wallace MacCaffrey – 4 stars
Dark Fire by C.J. Sansom – 5 stars
How to Grow Old by John Bishop – 3.5 stars