I bought a cake stand which I thought would be great for an afternoon tea. After cooking I thought it's a great idea to share how I prepared my fancy afternoon tea at home.
From start to finish it took me two hours and a half. I don't think it takes long and most of it can be prepared in advance and a couple of things can be made the day before. Nothing is shop-bought, beside the basics, like bread.
Looking at Master Chef I realized how important is to have a plan, so I've made the menu a couple of days before preparing the afternoon tea. By having a set menu, it was so much easier to know from where to start and the order in which the food is prepared.
If it's the first time you are making and afternoon tea, make sure most of the recipes you want to include are easy to make and you're familiar with them. This will allow you more time to experiment with the new recipes.
Menu for my afternoon tea at home
– cucumber, cheddar and cream cheese sandwich
– egg and mayo sandwich
– exotic mushrooms and cream cheese sandwich
– scones with raisins and scones with chocolate chips, served with clotted cream, rhubarb and vanilla jam and damson jam
– lime pie
– matcha pie
– chocolate cupcakes with strawberries
– chestnut mousse

Cucumber, cheddar and cream cheese sandwich with wholemeal bread. Spread a thin layer of soft cheese on both slices of bread, add some grated cheddar and thin slices of cucumber. Cut a couple of finger sandwiches.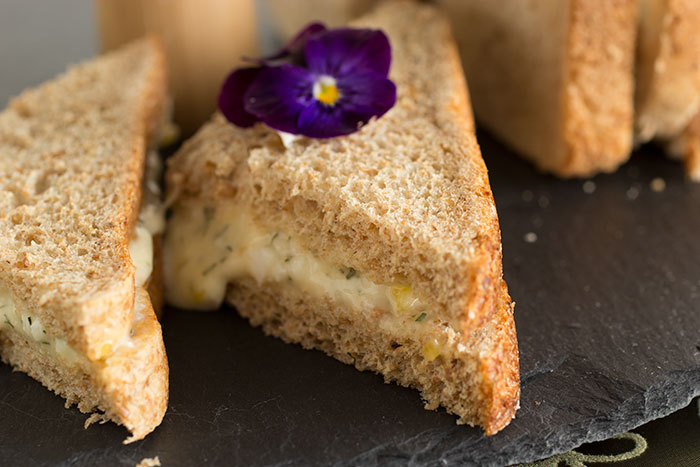 Egg and mayo sandwich with wholemeal bread. By using a fork, crush a hard boiled egg. Add a heaped spoon of mayo and mix. Add dried dill and garlic powder. Spread the mixture on the bread and cut it in a different shape than the cucumber sandwiches.

Exotic mushrooms and cream cheese sandwich with 50/50 white&wholemeal bread. Wash and cut the mushrooms into slices, stir fry them in a pan over high heat for a few minutes, add salt. This can be done the day before. Spread cream cheese on the bread, put the mushrooms in the middle. Cut the sandwich as you like.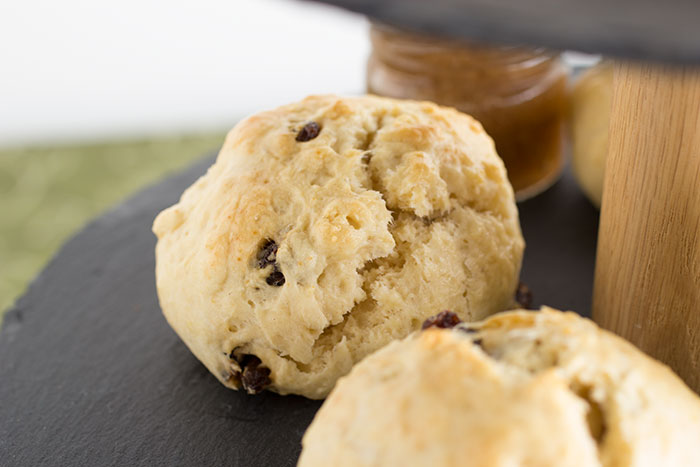 Scones with raisins and scones with chocolate, served with damson jam, rhubarb and vanilla jam, and clotted cream.
I used my chocolate chip scone recipe. After the dough was ready, I cut it in two. In half of it I've added the chocolate chips and in the other half raisins. It wasn't a lot of work and I had two different types of scones for my afternoon tea.
The recipe is easy to make and it turns out good every time. Make sure you measure everything on the kitchen scale and it should be great.

Lime pie and matcha pie.
I made the crust for both pies. As I used two small pie trays, 80g flour and 40g butter were enough. Knead the two ingredients until they form the dough.
For the lime pie, make a filling with 100 ml light condensed milk, 1 egg yolk and the lime juice from 1 lime. For the matcha use 100 ml condensed milk, a little bit of milk (~50 ml), 1 egg yolk and 1 teaspoon of matcha powder.
The matcha pie took longer to set, so I had to keep it more in the oven.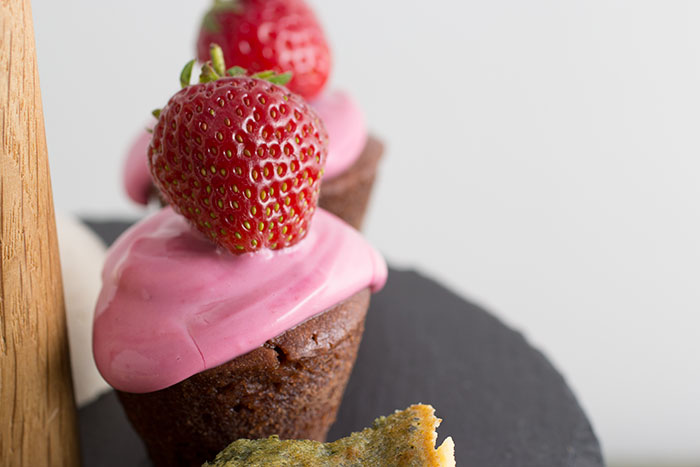 Cupcakes with soft cheese icing and strawberries. Similar recipe are on CookStyle. In the cupcake mixture I've added a spoon of cocoa powder instead of the blueberries that are in that recipe. Make the cupcakes in the beginning, as it takes a little of time for them to cool. Only after that you can decorate them with the icing.
I made the icing from soft cheese with icing sugar, beetroot powder to make it pink and a couple of drops of strawberry flavour.

Chestnut mousse. I've made chestnut mousse with apple, but this time I went for an easier recipe and I didn't add the apple centre. I think it works great without the apples. Basically it has 2 ingredients: chestnut puree and whipped cream. I mixed it, put it in the moulds and left it in the freezer for a couple of hours to set.
This can be made the day before. It was the first thing I made and it set in 2 hours.
I was delighted how everything was. I shared the recipes that I have on CookStyle as it was easier than to copy them here.
Have you ever made an fancy afternoon tea at home? Do you have any tips?